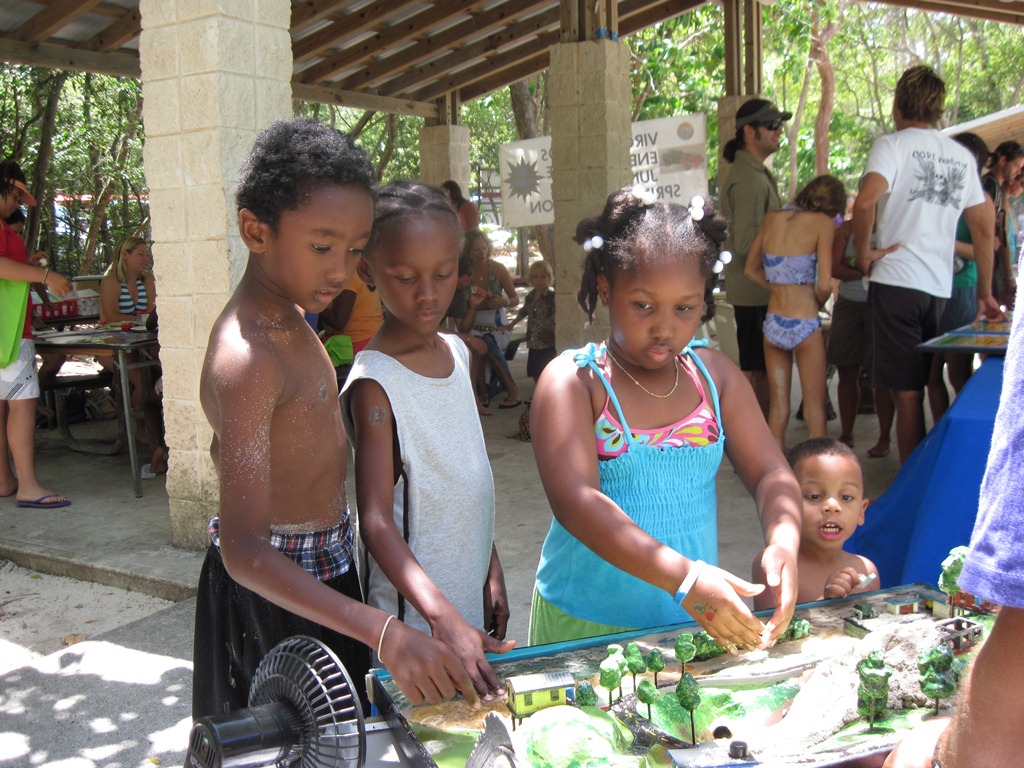 The smell of hamburgers and sunscreen permeated the air at Hawksnest Bay Saturday as the Friends of V.I. National Park brought attention to St. John's marine environment with its second annual Reef Fest.
"But the coolest thing is to see the community come together," Park Superintendent Mark Hardgrove said.
Audrey Penn, the Friends program manager who organized the event, said that while Friday's Earth Day was about the land and the earth, the Reef Fest was just as important because everything that happens on the earth impacts the ocean.
"We're focusing on the ocean that surrounds us," Penn said.
Kysha Wallace, an environmental educator for the V.I. Waste Management Authority, took that concept a step further by noting that litter deposited on land often ends up in the ocean. "We're here to encourage people to do the right thing – reduce, reuse and recycle," Wallace said.
St. John resident Jaida Fessale, 8, convinced her mother, Tanya Hill, to attend Reef Fest after learning about recycling at Earth Day. Although Jaida was shy about speaking out, her mother said that her daughter is now truly interested in the subject.
St. John Recycling was on hand with its can crushers to showcase its work. The organization on Friday received a U.S. Environmental Protection Agency Environmental Quality award for its grassroots recycling efforts.
"We collected over 830,000 cans last year," Celia Kalousek of St. John Recycling said.
Penn also received an individual award, bringing to two the number given to St. John-based residents and organizations.
The V.I. Network of Environmental Educators was there to showcase its effort to get residents and visitors to take home memories but leave the marine life in place.
"If people love the earth, they'll practice it," St. Thomas resident and VINE member Ivanne Farr said.
Students from the University of the Virgin Islands marine science program helped youths who attended Reef Fest put their artistic touch on four murals relating to the environment.
In addition to representatives from the local government and various environmental organizations, which had demonstrations and passed out information, volunteers staffed the registration desk, cooked the burgers and made dishes like tofu shish kabobs.
"I'm slicing rolls," St. John resident Terry Pishko said as her husband, Chuck, flipped hamburgers donated by the Audubon Society of the Virgin Islands.