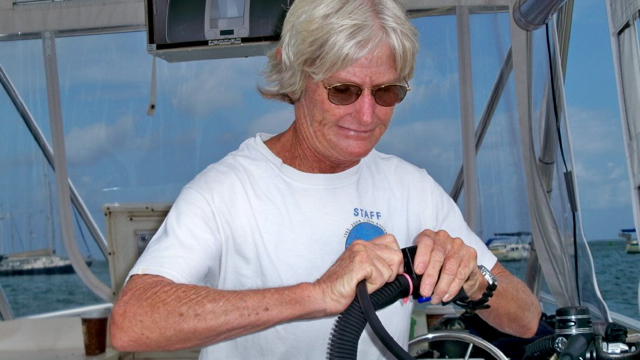 Michelle Pugh's work place is underwater and she has spent a lot of time there.
Way back in 1993 Pugh joined the 5,000 club with 5,000 dives behind her. Since then she hasn't been keeping track as much as she did as a teenager in the early 1970s when she kept a diary of all her dives.
But sitting in her Dive Experience Dive Shop in Christiansted Saturday, she said she still dives three or four times a week. She dove that morning.
"Diving in the morning and doing some retail in the afternoon is a good combination," she said.
Pugh journey to St. Croix from California in 1977 to teach diving for three months and she's still here, calling a house on the hill overlooking Cane Bay her home.
In 1983 she started her dive company, Dive Experience. At first it was no more than "a boat and a phone" located at Salt River Marina. But it was not long before she moved into Christiansted, first in the Commache Hotel and then to her present location on Strand Street.
Although she says there have been changes in the above-the-water segment of her business – more comfortable and safer gear; it is easier for her to see the changes below the water.
"It is going fast, it is being depleted," she says.
Pugh says the reefs around St. Croix were once home to many of varieties of large Parrot fish. Now, a diver very infrequently sees many of those varieties. She blames much of the depletion on gill net fishing. She was an advocate for the ban for years.
"I followed the governor wherever he went and gave him letters," she says.
She earned the 2007 Environmental Advocacy Award from St. Croix Environmental Association for her work on the ban. The ban did finally come two years ago. She was very disappointed that the ban took so long and even more disappointed that it does not seem to be working. She says fishermen have found technical ways of skirting the intent of the ban.
But now she has taken on another battle.
Just in recent weeks, Dive Experience has sponsored two lionfish hunting events. But lionfish hunting is more than just an occasional event for Dive Experience. Her crew hunts lionfish every day. The morning of the interview Sam Halvorson speared two. Dive Experience is also on contract to help the National Park Service keep lionfish out of Buck Island National Monument.
The goal of completely eradicating the lionfish no longer seems realistic. The invasive species was introduced into the coastal Atlantic waters from the Indian Ocean and has spread into the Caribbean. It has no local predators and a ravenous appetite for reef fish,. Dive Experience is now just trying to keep local dive sites free of them.
Speaking of dive sites, one of the first of Pugh's environmental advocacy campaigns was to bring about moorings at dive sites.
When she came to St. Croix, dive companies were just dropping anchors that would destroy a little bit of coral just about every time they were dropped. It might not have been much, but because the sites were seeing such repeated use she realized it was bound to add up. She spearheaded "Project Anchor Away."
It took Pugh and others on the island many fundraisers and many hours cutting through government, bureaucratic red tape but it was finally accomplished. A 75-mooring buoy system now surrounds St. Croix to protect the coral reefs from anchor damage.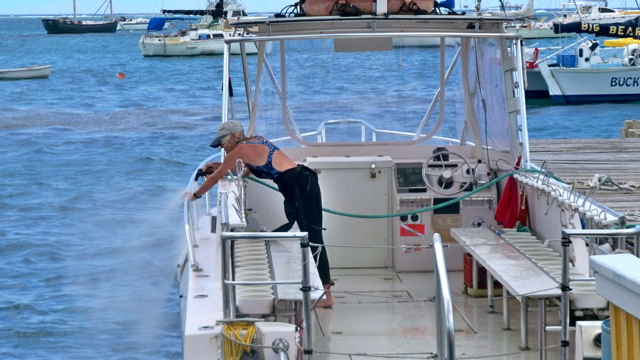 Dive Experience's website says, "Michelle's love for the ocean, passion for exploration and environmental activism has guided her diving career since 1970." That statement would almost seem obvious from the details above. However, it can be added that she has worked to help create the East End Marine Park and has been heavily involved with the Fisheries Advisory Committee as part of her continued concern for the U.S. Virgin Island marine life. She remains a board member of both those organizations.
Her resume as a diver is also impressive. She took her first dive in Malibu, Ca., at the age of 16. In 1978 she was the first woman photographer to film killer whales underwater in the wilds in Canada. She was the first dive operator on St. Croix to achieve the PADI 5 Star IDC rating. She was the first woman to teach PADI classes in Moscow, Russia.
Dive trips with Pugh can be arranged by calling 773-3307 or sending e-mail to [email protected].
She said she is not sure what the future holds for her, but it will probably include diving. She says, "I dive on my day off. I dive on my vacation."