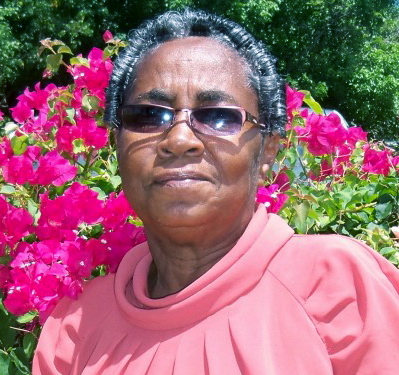 Jane "Annie" Lansiquot is mother to six biological children and the "other mother" to six children she says she just "took in." She never planned on being a foster parent, she said. It just happened and it has continued the last seven years.
"I took in children because it just came on me," Lansiquot says. She also took in two of her 15 grandchildren.
She became the other mother to two children seven years ago, when a friend became seriously ill and had to be hospitalized for an extended period of time. "It was the just the right thing to do to help out my friend because their dad couldn't take care of them," Lansiquot says.
The latest foster child in the Lansiquot family came from the Queen Louise Home two years ago and is under the care of the Department of Human Services foster child program. Lansiquot requested the child remain anonymous. He was born addicted to crack. He is 10 years old, in the fourth grade and doing very well. She says he has to take medication daily for the addiction and she says sometimes it is challenging getting him to settle down.
"This child fits perfect in the family though," Lansiquot says. "He is very loving and giving."
She said a another child once called him a motherless child and she said, "He isn't a motherless child. I am his mother."
"Annie is loving and she cares about me," the foster child said in a recent interview. "I have a good family and everyone is very nice."
Lansiquot says her faith has played a big part in her being able to do what she does and gives her strength.
She is a devout Seventh Day Adventist and she instills her beliefs in her children. All of the children who have lived under her roof have had to go to the Seventh Day Adventist School in Christiansted.
Lansiquot doesn't have a single frown line or furrowed brow and appears younger than her 63 years. She says the latest child she is foster mother to helps keep her young.
Lansiquot moved with her husband Enno Lansiquot to St. Croix from their native St. Lucia 42 years ago so he could work in construction here. She came from a big family where everyone had chores. Her job was cooking for the whole clan.
She turned that skill of cooking for a crowd into a catering business she calls Annie's Catering. She has taken first and second place awards at the Taste of St. Croix for her vegetarian and local dishes. She prepared around 100 lunches for her churches fifth annual Mother's Day Luncheon Sunday.
In her spare time she watches cooking shows on television and enjoys going on cruises with her family.
"I love children and I love to cook," Lansiquot says. "As long as I have a breath in me I'll take care of children and cook."