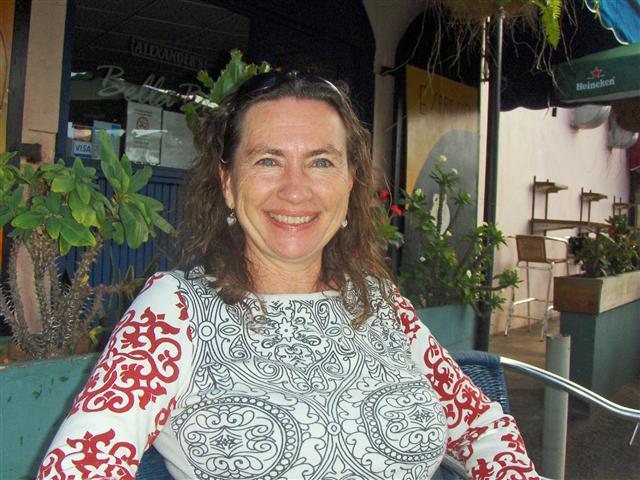 Eileen Short leads with her heart. You could safely say she puts her money where her heart is.
Since moving to St. Thomas in 1983, Short has practiced the kindness with which she was raised. It's her mantra.
Helping others is in her genes. The ninth of 11 children of a rural Vermont family, Short says, "I grew up in a small town with a large family. We had a small farm, which all of us cared for. My dad was a teacher, but he tended the vegetable garden. We were a traditional family, helping each other."
Her folks' influence comes up often in Short's reminiscences.
While raising her own brood of four—Carissa, 25; Shekaya, 18; Jaia, 15; and Keon, 13—Short has become an integral part of the wellness community.
Short graduated from the University of Vermont with a Bachelor's of Science degree in physical therapy in 1983 and headed straight for St. Thomas.
"I knew I loved the island before I moved here," she says, "and I'd only visited once."
Short is a familiar face in the healing community. She first worked at Roy L. Schneider Hospital as a physical therapist for a couple years, leaving to join Horizon Physical Therapy, where she spent 13 years before rejoining the hospital as director of Rehabilitation Services at the Schneider Regional Medical Center.
"So," she says, "I've come full circle."
In between jobs, Short struck out on her own, doing home care for people recovering from strokes, or other injuries or illnesses.
"I really learned the island," she says. "People would give me things, like mangoes. They looked forward to my visits. They were so grateful for the care. It was a fulfilling time for me."
Raising her biracial family on the island has been a more than fulfilling experience. "It's a wonderful place to raise my family," Short says. "Biracial, bicultural families are accepted, and I'm so grateful to the community. I don't think they would have been so readily accepted on the mainland—Irish and West Indian kids.
"My children have gone to Sibilly, Catholic School, CAHS, and now Montessori, and they do so well," she says. "In fact, Shekaya just enrolled in the University of California Los Angeles (UCLA) last fall. She is studying physical therapy, and UCLA has a great program. That's where she set her sights, and that's where she was accepted, along with five other schools."
She adds, "Can you imagine a little island girl on that huge California campus? She fits right in and she is happy, doing beautifully, and that's because of her island upbringing."
Balancing family needs with her professional career is second nature to Short. She says, "It's a juggle, but with our community, it works well. And, my younger sister, Diedra, has been here helping me all along – she's a second mother to the kids."
The youngest member of that family is Carissa's son, 4-year-old Miguel, her first grandchild, and the obvious apple of Short's eye. Carissa, who works as office manager for Dr. Catherine Kean, is a "wonderful mother, playful but firm," Short says.
She says, "The boys, Jaia and Keon, attend Montessori. They both have summer trips they're so excited about—Jaia is going to Argentina in an exchange program, and Keon is off to Texas."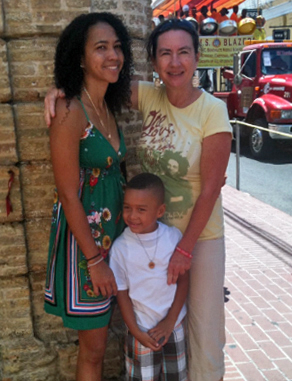 Short is petite and blue-eyed, Irish to the core. Their father, Densil Hendrickson, a professional chef, is from St. Kitts. "When my parents came down for our wedding, my dad danced the Irish jig for five hours straight. Nobody had seen anything like that."
Though her mom was a housewife, Short says she made national news in the August 1958 edition of "Ladies Home Journal" in which Florence Short shares a story about saving the life of a neighbor's baby, by supplying the infant with her own breast milk. The baby responded and was healthy within weeks, she says.
"That's the kind of home I grew up in," says Short.
That kind of life lesson was not lost on her.
Short is the president of not-for-profit V.I. Therapy Association and Disabilities Advocates (TADA). She says the group's goal is to raise money and public awareness about the disabled and their need for therapy and equipment.
"The community is so underserved," she says. "People with disabilities are in need of equipment—wheelchairs, walkers, bathing equipment, splints—things to make moving about the home more comfortable and efficient, and to help care givers."
Short is still excited about the success of TADA's fourth Wellness Fair at Magens Bay last month. "We raised $2,700, the most ever," she says.
Speaking of the fair, she says, "People were introduced to new things, some they hadn't even known existed. For instance, a chiropractor introduced network spinal analysis, which touches mind, body and soul. People were looking for health, empowerment, for peace … That was another beautiful aspect of the day."