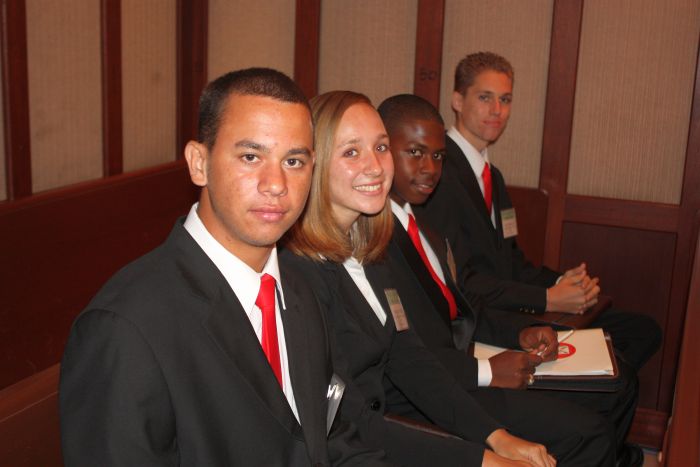 Already a controversial policy being looked at in the states, this year's Moot Court participants debated the constitutionality of a policy allowing for drug and weapons searches on the grounds of public high schools.
Although the question was only hypothetical, the students had strong opinions on both sides of the debate, which pitted the V.I. Board of Education against local students opposing the policy.
The six high school teams—Central High School, Educational Complex and the Seventh Day Adventist School from St. Croix; along with Charlotte Amalie High School, Sts. Peter and Paul, and the Seventh Day Adventist School from St. Thomas-St. John—battled it out in the courtroom during this year's competition, which partners the students with local lawyers and allows the teams to present their arguments before the panel of esteemed judges.
This year's competition, sponsored by V.I. Superior Court and the V.I. Bar Association, was presided over by Superior Court judges Audrey Thomas, Harold Willocks and Adam Christian.
"This is a real interesting case," said attorney Randy Holzapple, St. Croix Educational Complex High School's coach. "And it's actually for real. Across the states there's a real move to impose drug testing, random urinalysis on students that participate in extracurricular activities; and because of the usage of drugs in the schools, it's continued to be a real issue."
Holzapple said testing initially extended to athletes, but heated up once other students, such as band and choir members, were included.
Holzapple said he would not be surprised if the policy were to be implemented in the territory, and for the most part, his students agreed with the idea of bringing something similar to the public schools.
"Personally, I do agree, because I'm at school, and I see the dangers posed by drugs and weapons," said Jaime Bethel, a senior at Complex. "These things have to be dealt with one way or another, and I for one feel that having this policy instated is the best way."
In the courtroom, other students presented similar arguments to the judges and said that keeping students safe is the number-one priority.
"The school's legitimate need (to provide safety) overweighs the students' expectation of privacy," argued Fidel Pena, a senior at Sts. Peter and Paul.
Discussing the realities of the Fourth Amendment to the Constitution, which deals with illegal search and seizure, Holzapple said his students were surprised to hear that they, as minors, had few rights. Instead of being angry about it, they took to educating other students and talking over the fictitious policy with them.
"The issues that we deal with in this competition really lend themselves to the students, and with policies that they might have to face in school, in their daily lives," he said. "That's why competitions such as this are so important. And really, the most important thing that they learn from it is self-esteem and that they can do the work and appear as lawyers in front a panel of judges."
For students who might be thinking about entering the competition next year, Bethel added that it might be the opportunity of a lifetime, even if the student is not interested in becoming a lawyer.
"It is a really great experience," she said. "It builds your vocabulary, and it helps you think quickly on your feet. Everyone should do it if they have a chance because it really builds you as a person."
During the competition's opening ceremonies Thursday, many speakers also said that the competition provides students with a number of life skills that will take them through college and into their careers.
Just volunteering for the competition shows initiative, which is an important ingredient for success, said Trevor L. Harley, law clerk to Judge Christian.
It's not customary for high school students to want to participate in a competition that requires hundreds of hours of studying and reading through more than 200 documents, including case law and various court briefs, he said.
"And we're not talking Harry Potter type of reading here," Harley said.
Gaining analytical and disciplinary skills is also important, other speakers said as they praised the students for their dedication. Many of the students said they had been preparing for at least two months and had forfeited their Carnival break in favor of afterschool and late night practices.
"You are the cream of the crop," said Elliot McIver Davis, assistant legal counsel in the Office of the Governor. "You are the most serious students, the most articulate students, the most dedicated students and you will all go far."
Davis also said that there were "no losers" in the courtroom Thursday.
"I know you all want to win — I'm a lawyer, I know how that goes," he said. "But some of our most prominent members of the V.I. Bar and bar associations around the country were sitting right where you are sitting, and they lost. But they discovered they had a taste for the law, had a joy for the law and they pursued a legal career. And maybe that's what you'll get out of today."
While many of the students said later that practicing law might not be their first choice, they all expressed the same kind of appreciation for the competition.
"It gives you a lot of exposure, so if you do plan to be a lawyer, it is a good way to start, but I'm doing it for the experience," said Elton Narciss from St. Croix's Seventh Day Adventist School. "I would really encourage any who can to try it out, because you learn a lot about your own community, its laws and how it really affects you."
The final round of the competition is scheduled for Friday, with the winners being announced at 1 p.m. in ceremonies held at Victor's New Hideout Restaurant.