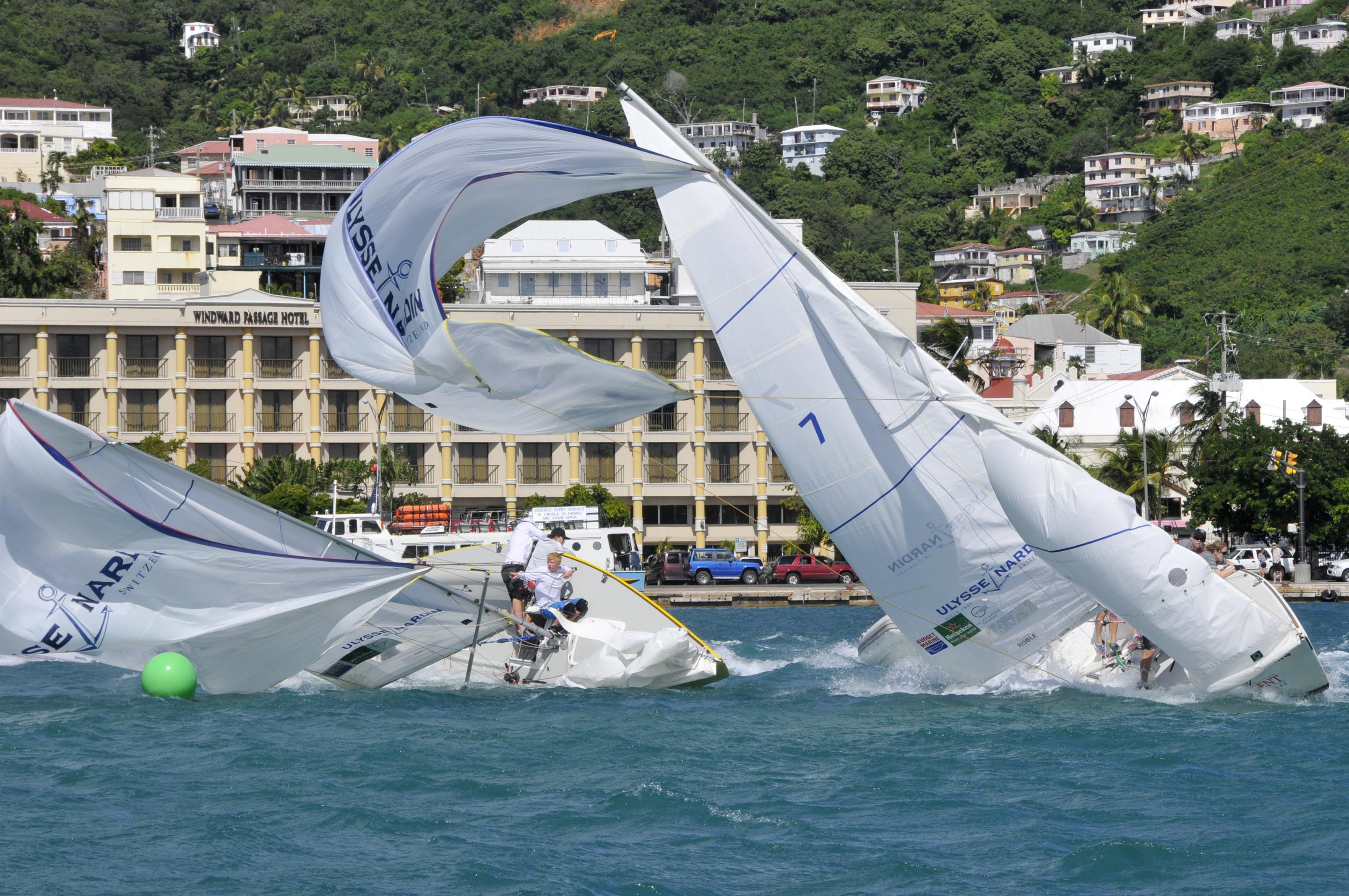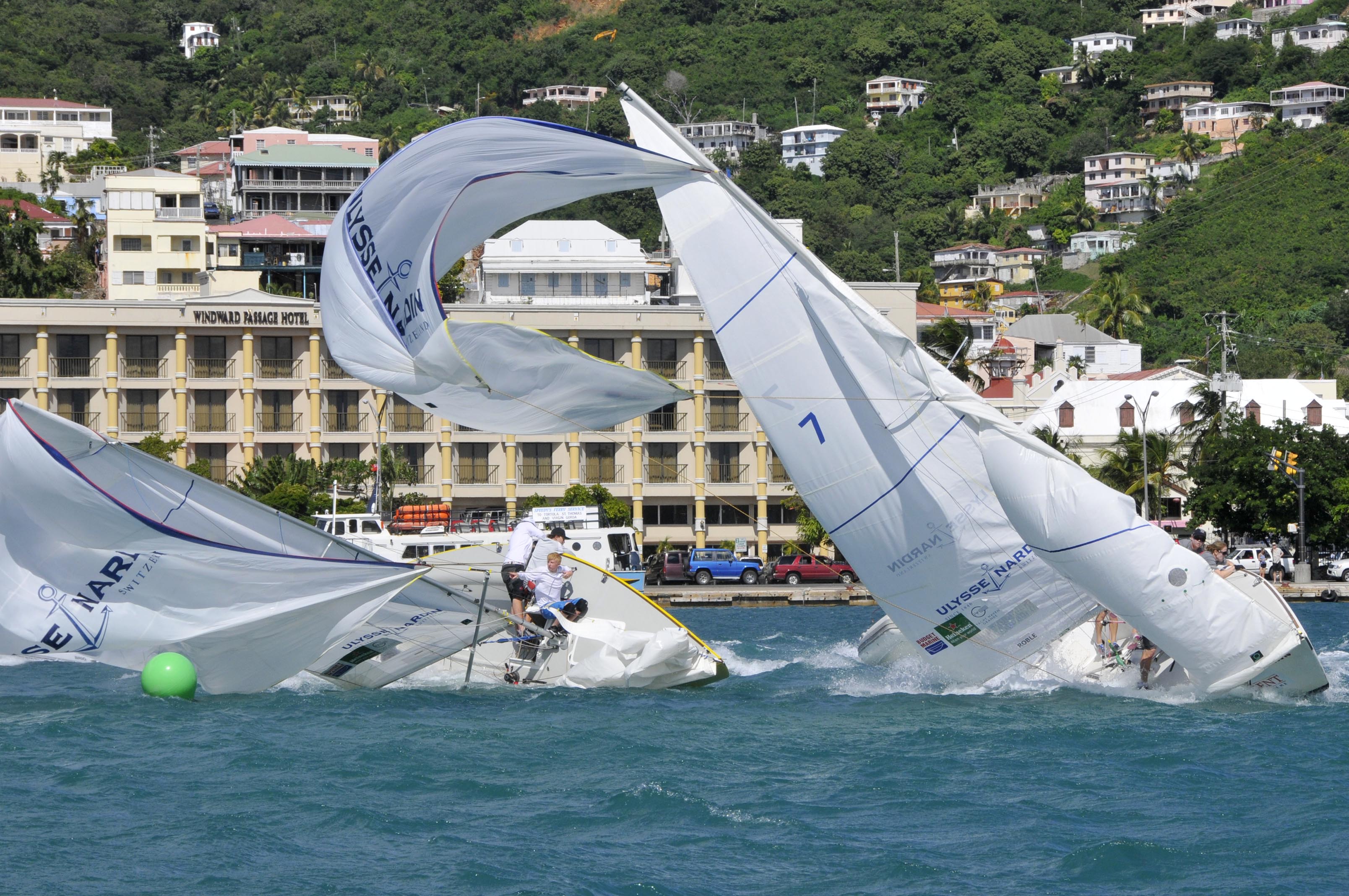 Semi-Finals Begin at Annual Carlos Aquilar Match Race
A north wind blowing 10 to 15 knots made for faster matches and this enabled the semi- finals to get underway at the 4th Carlos Aguilar Match Race (CAMR), presented by Ulysse Nardin/Trident Jewels & Time. The top four teams advancing into the semi-finals are Finland's Stefan Lindberg, the USVI's Taylor Canfield and USA's Sally Barkow and Dave Perry.
The bigger breeze also created conditions for some spine-tingling match racing. One of the most thrilling matches happened just before noon when two USA skippers, Stephanie Roble and Dave Perry, both double broached. Up for grabs for the match's winner was a slot in the semi-finals, so the competition was definitely keen.
"We were trailing into the finish with a penalty," said Roble, who is the 30th world-ranked woman match racer. "We tried a move, a double gybe, to try and take Dave out and we both ended up wiping out. It was crazy, but it was definitely more fun racing with the breeze. We even had one of our crew do nothing but call the puffs."
Perry ultimately won the match and the semi-finals slot, yet Roble says she's gained crucial experience that will help her team's bid to represent the USA in Women's Match Racing in the 2012 Summer Olympics.
"Teamwork, tactics and calls are something we've been able to work on at this regatta, especially when sailing against some of the top teams in the world," said Roble. "The Open format and opportunity to sail against guys was also helpful. They pull different moves, their timing is different and they sail more aggressively. I think we've learned to become more aggressive as a result, and that's good."
One of the men Roble was up against as positions 5 to 8 were decided was Greece's Stratis Andreadis. This is the second year Andreadis has competed in the CAMR.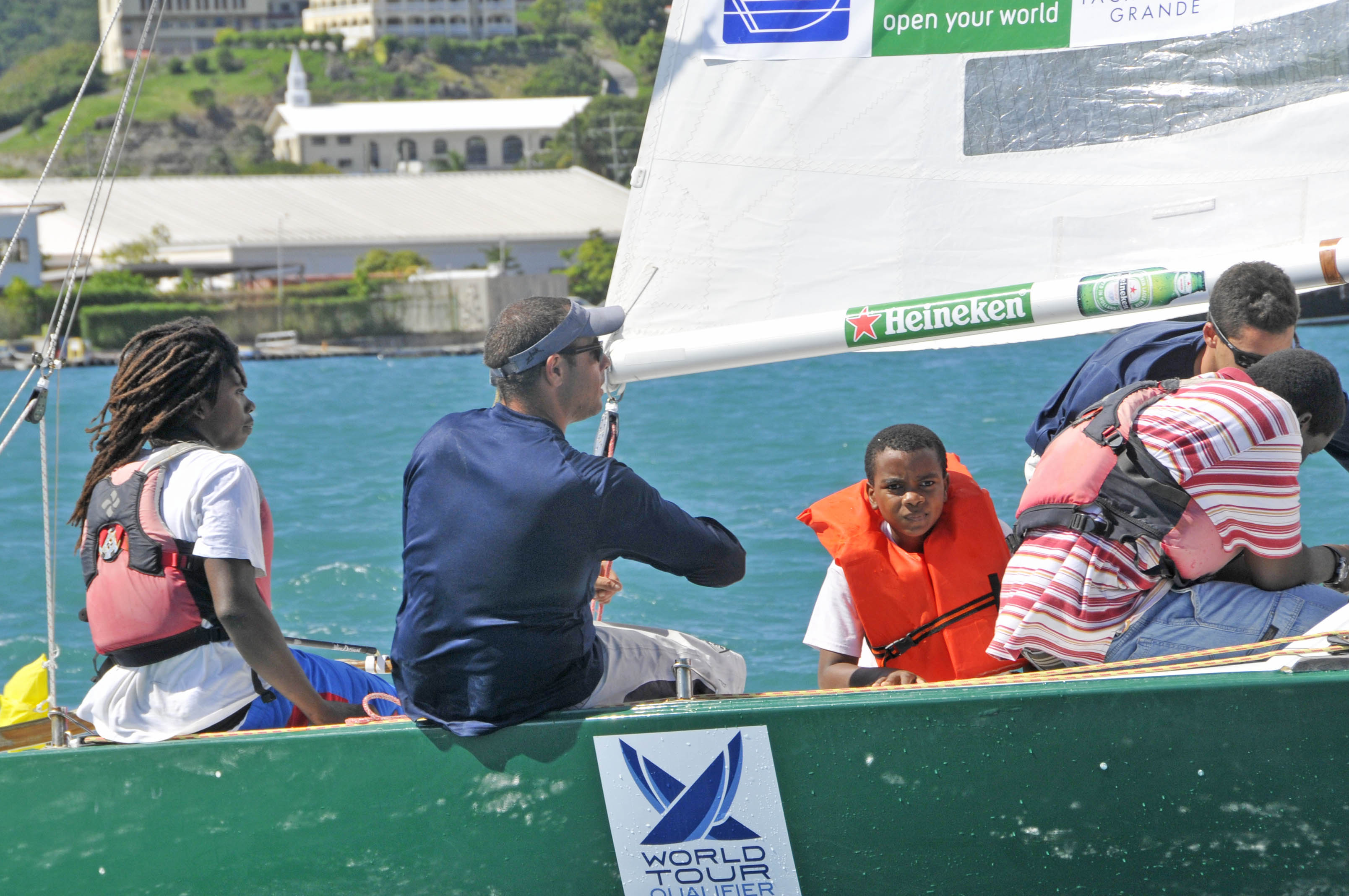 "We knew from sailing here last year to expect very shifty winds," said Andreadis, who is ranked 31st in the world. "This year we didn't make the same mistakes, we made new ones. For example, one thing we learned while racing against Taylor (the USVI's Taylor Canfield, 28th world ranked) is the advantage of calling for room at the sea wall. That really helped us in a couple of matches."
The USVI's Tyler Rice was also in the mix for positions 5 to 8, ultimately finishing sixth behind Andreadis and ahead of Roble.
"We thought we had a shot at the semi-finals because we almost beat the top-ranked sailor Stefan Lindberg this morning," said Rice, a sophomore at Brown University. "We controlled the starts, but they ended up making fewer total mistakes."
The Carlos Aguilar Match Race Youth Regatta, sponsored by Budget Marine, took place at noon. Twenty students from the Gladys Abraham Elementary School and youth organizations, Sankofa Saturdays and the Environmental Rangers, paired up with six of the CAMR's skippers in a three-lap fleet race. The competition was close and all boats finished seconds apart, making everyone a winner.
"This is the first time I've sailed this type of boat and I really liked it," said Lukata Samuel, a freshman at Charlotte Amalie High School and Environmental Ranger, who took the helm with the help of Greece's Andreadis calling tactics. "The tacks and gybes were the most fun."
Gladys Abraham fourth-graders Me'Kayla Creque, Mahlania Percival and Yaneiri Sanchez sailed as timer, helmsman and cheering squad, respectively, with Finland's Stefan Lindberg.
"I've never sailed before, so I wanted to see what it was like," said Creque.
"Going fast and being able to steer was fun," said Percival.
"I like to touch the water while we sailed," said Sanchez.
Participation in the youth regatta was a great learning experience for the youngsters, according to Dara Cooper, founder of Sankofa Saturdays and a parent and volunteer at Gladys Abraham Elementary School. "It was a wonderful opportunity for the children to get a hands-on experience in something that is all around them. It also creates what we call positive peer pressure. Who better to talk up the fun they had out on the water to their friends?"
This four-day regatta, sailed in Inter-Club (IC)-24s, concludes with the finals on Sunday. The CAMR finals will be broadcast live locally on WVWI (AM 1000) between noon and 2 p.m.
Up for grabs is a distinctive Ulysse Nardin precision timepiece for the winner. In addition, the winner also receives an invitation to the prestigious Stena Match Cup Sweden, in Marstrand, Sweden, in the summer of 2012. The CAMR is an Official World Tour Qualifier (WTQ) for the 2012 World Match Racing Tour (WMRT) (
www.worldmatchracingtour.com
).
Day Three– Preliminary/Unofficial Results
Stefan Lindberg, FIN 2-0 vs Dave Perry, USA 0-2
Sally Barkow, USA 1-1 vs Taylor Canfield, USVI 1-1
5. Stratis Andreadis, GRE
13. Mauricio Gallardo, ESA