Have you ever met with your child's teacher about any issue? Spoke at a local gathering about a project you care about? Told a cashier an item was not ringing up correctly?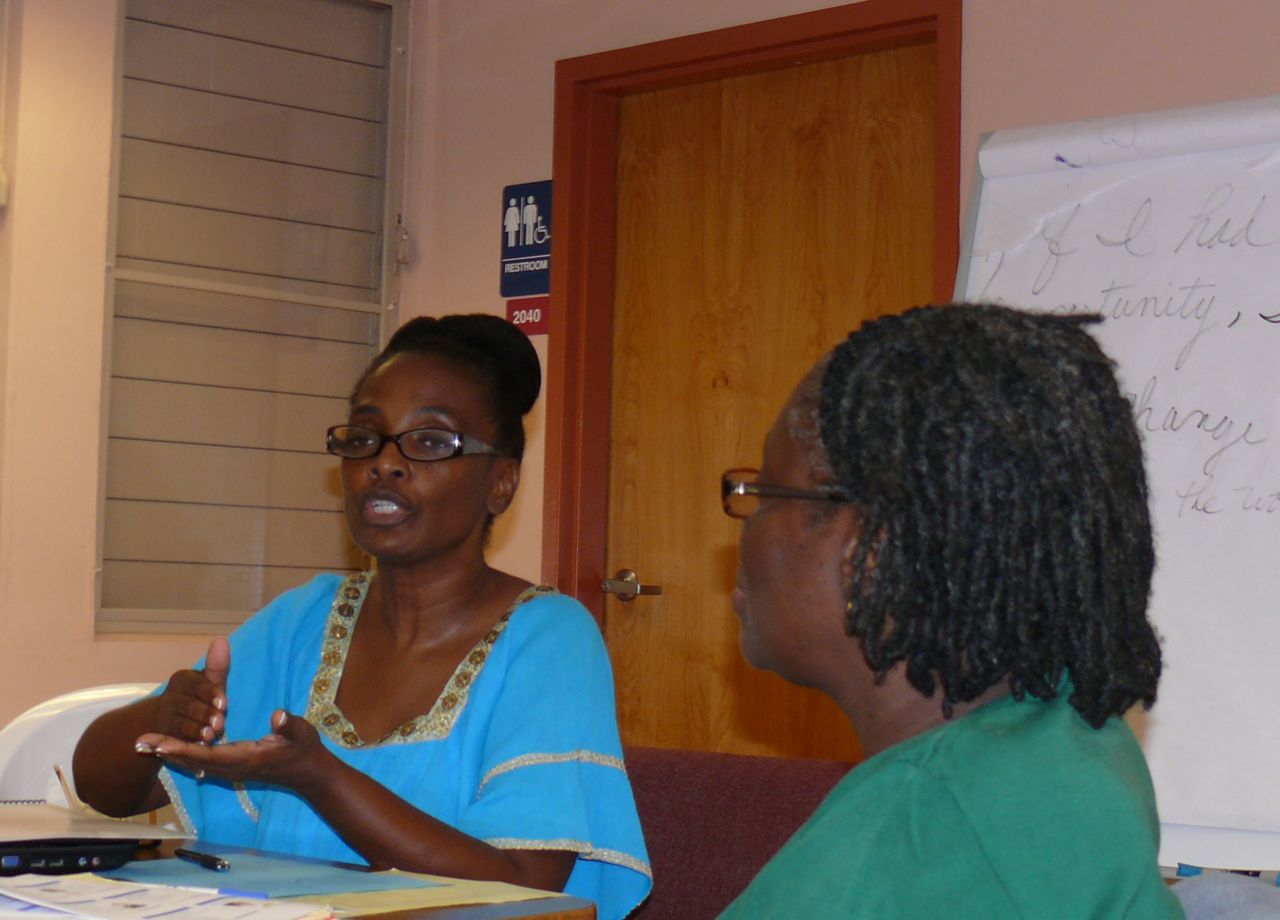 These are some of the questions Michelle Ritter-LaCoss of V.I. Family Information Network on Disabilities (V.I.FIND) asked of parents in a support group for children with disabilities at Charles Harwood Medical Center Thursday.
The open-forum meeting was one of a number of forums, open houses, and presentations highlighted by the Health Department as it opens its doors to residents for Mental Health Month in May to showcase the services available to the public. LaCoss spoke to perhaps a dozen parents in the support group, going through the kinds of skills information and attitudes a parent needs to have to effectively advocate for the best interest of their child.
To be an effective advocate, parents have to do six things, LaCoss said:
Understand your child's disability;
Know the key players;
Know your rights and responsibilities;
Become well organized;
Use clear and effective communication;
Know how to resolve disagreements.
"Knowing your child's disability helps you know the steps to take for their future" LaCoss said, discussing what it takes to carry out each of these projects, and getting feedback from the parents on practical problems from dealing with violent behavior to getting children to take medication. ("Putting it in melted gummi bears may trick a toddler, but no 15 year-old is falling for that," said one parent.)
The parent support group meets twice a month, year-round at the CHC's Division of Mental Health, Alcoholism and Drug Dependency Services, and frequently has parent training sessions on a wide array of topics, said Roxanne Miller, a team leader within the group.
Teaching parents how to advocate for themselves is especially helpful, Miller said during a break from the meeting.
"To be an advocate you have to know how to talk to people and you can't be shy about it," Miller said. "You have to be vociferous and a lot of our parents are shy by nature, so we try to get them out of their shell because they have to. Who is going to be there for their children if they are not?"
Miller said she agreed with LaCoss about the importance of understanding all the details of a child's disability. "Without knowing their needs you cannot properly advocate for them," she said. LaCoss and the parent support group both work to let parents know what resources are available to help them.
V.I.FIND hosts monthly parent training sessions on the federal IDEA and ADA laws, teen sexuality, due process, advocacy, involving fathers, and many other topics of use to parents of children with disabilities.
V.I. FIND can be contacted by email at [email protected] and by phone on St. Thomas at (340) 774-1662 and St. Croix at (340) 692-2323. To find out more about mental health services and the services available for children with disabilities, go to the V.I. Health Department website in the related links below.