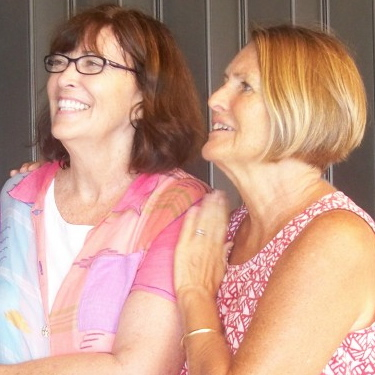 Local businesswoman Mary Dema was concerned over the look of abandonment in Christiansted, and she and a group of volunteers turned that concern into action. They are on a mission to get back the look of vibrancy and life to the beautiful historic town of Christiansted.
"To me the look of abandonment in town was too sad," Dema said. "I would drive through town and think about what I could do to help. I didn't like to see buildings with the shutters closed."
Dema decided she could do window dressing, opening up the shutters and filling windows with displays for non-profit organizations.
Dema has experience in window displays and an eye for composition. She started in retail at 18 in Rhode Island, where she grew up. She has worked in Christiansted since 1977 and is the owner of Quinn House Galleries furniture and home furnishings store in Peter's Rest. Dema opened the store on Company Street in 1989. She moved to Peter's Rest a couple of years ago because it was difficult to have big shipments of furniture in town.
At the end July, Dema – who is a member of the Christiansted Restaurant and Retail Association – wrote a letter about her proposal to members of the group, and it was well received.
She says she has been working with property managers such as Susan Anderson from the Caribbean Group.
"She's been a doll," Dema says. "It's wonderful that she helps us get in and do the windows."
The owners of Hamilton House have been very happy and excited to open the shutters too, since it is by the taxi drop area, she adds.
Dema says the window dressing isn't just for tourists, although that came up in conversations when a tourist at the last Art Walk Thursday mentioned the town looked like it's in decline.
"We're not in decline," Dema says. "We're doing this for all of us. It's to make us feel better during this economic time. We want to give everyone who drives through town the impression of life."
Susan Kraeger, who came to St. Croix in 1961, left for college in 1966 and moved back in 2009, has been working closely with Dema in the initiative.
"This whole initiative was like a cosmic convergence," Kraeger says. "We are all truly connected. People are calling to see what they can do to help us."
Volunteers can do basic maintenance, cleaning windows and gutters, weeding and touching up painting.
Kraeger praised Jo'Liza John, an architecture student and Miss St. Croix contestant who ran for the title on a platform of preservation, for organizing and working with volunteers to clean and power wash buildings on King Street.
The volunteers are working in phases, with the first phase completed before cruise ships returned at the end of October. They are hoping to do clean ups three to four times a year, and there are possibilities for scraping and painting buildings. Dema says property owners have seen the people at work on the initiative and they have power washed and cleaned some of their buildings.
Strand Street is looking particularly spiffy after a cleanup, coordinated by Dema, was done in mid-October. The planters were weeded and cleaned of cigarette butts and refuse and the plants were trimmed. David Hamada, horticulturist from the St. George Village Botanical Garden, gave his input and added some new plants from the garden.
The group is finishing up the windows for SEA on Strand Street in the former Coconut Vine store. Dema and Kraeger aren't just taping posters to windows. They clean and carefully decorate windows, draping material, displaying, and hanging items of interest from the non-profits. They don't have any merchandise in the windows for sale and they are totally noncommercial.
The first dressing they did was for the Half Iron Man headquarters on Kings Alley. The Hibiscus Society is using the windows at the Hamilton Building that used to house Quiet Storm and before that Little Switzerland. St. Croix Landmarks Society has a display on the side street between Comanche Hotel and Kings Alley. The volunteers also did windows on Strand Street for the Caribbean Community Theater.
Toni Lance and her bird rehabilitation project will be on display at the Chase Bank Building.
"We can't abandon town," Dema says. "We want people to continue to come to town to shop and go to restaurants. People are smiling and it's been nice seeing happy people."
Dema says she is grateful for the response and help from everyone.
"It's not somebody else's job to clean up," Kraeger says. "It's up to each of us to help."
Organizers would like to get more students involved and get people to adopt buildings to take care of. People can volunteer by calling Dema at Quinn House Gallery, 1-340-773-0404.