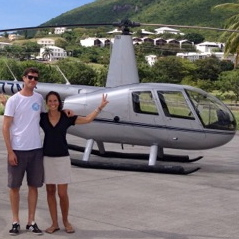 Maria Rodriguez will never forget the day she asked a military recruiter about her chances of learning to fly a helicopter if she signed up.
"The guy behind the desk looked at me and said, 'Go home, Little Girl. Come back some day when it's not raining.' "
Well, she was young; the St. Thomas native was attending Brandeis University in Massachusetts at the time. And it was raining. And she is petite. But she was more serious than the recruiter could have imagined, and in the years since has proved it.
She's been flying helicopters for the last 28 years, racking up air miles over land and sea and breaking the gender barrier in the process. Currently she and her husband, Nicholas Van Heurck, run a helicopter charter service out of St. Thomas, Caribbean Buzz, which they opened a year and a half ago.
Rodriguez said she knew when she was growing up that she wanted to fly, and although she'd never been on a helicopter, she knew that was the aircraft she wanted to pilot. In high school she took some fixed wing flying lessons, which was the only thing available on-island at the time, but the experience only confirmed her fixation with the helicopter.
Not long after her encounter with the recruiter, Rodriguez transferred to the University of California at Santa Barbara and discovered that there was an airport next door to the university, with a flight school that offered lessons in helicopter flying.
"That's how I met my husband. He was my instructor," Rodriguez said.
When she first started flying helicopters professionally, she said there were fewer than 500 women pilots.
"I'd go weeks without hearing a female voice on the radio," she said. "Aviation's always been a man's world," and that goes double for helicopters because of their history as craft used primarily in wartime.
Rodriguez and her husband flew for many years with Air Center which had operations stateside and in the Virgin Islands. It handled private business and also had military contracts.
She went through five years of rigorous training as a rescue mission specialist and would pick up drones that the Navy used in its training maneuvers off the coast of Vieques.
"We'd land on aircraft carriers," she said. "I think I'm the first female helicopter pilot to land on a destroyer."
As Rodriguez explained, "It's different from landing on land, especially when it's rocking and rolling." The pilot has to judge the movement of the boat with the waves. "It comes with experience. It's not scary, but you have to be careful."
Now, with Caribbean Buzz, she sometimes lands on mega yachts to pick up or discharge charter passengers.
The company has two Robinson 44s, each able to seat three passengers in addition to the pilot. Typically, Rodriguez shuttles people from the Cyril King Airport to nearby islands or sometimes carries them from one island to the next. She's met Kate Winslet, Gerard Butler, Richard Branson and a few other celebrities that way.
Rodriguez and Van Heurck have two children – born and raised on St. Thomas: Charlotte who works for a think tank in Brussels and Madison who is studying engineering. "And they both fly," Rodriguez said. They both have fixed wing pilot's licenses, but are working on getting licensed for helicopters.
"I'm strictly rotor wing," their mother said.
For a helicopter "you use both hands and both feet… you have full control," she said. "I think women enjoy that feeling of control over the machine." Besides "The bubble of the helicopter gives you such a great view!"
It's hard to say just how many women enjoy that view enough to become helicopter pilots, but the number certainly is increasing. Rodriguez notices the change on the radio where a female voice is no longer rare.
The website for Whirly-Girls, a professional organization for women helicopter pilots that is affiliated with Helicopter Association International, says that as of 2011, it had 1,700 registered members. Rodriguez is one of them.
Rodriguez said if she ever stops flying professionally, she'll have to keep a helicopter to use for fun.
"I can't imagine not flying," she said.