Employees at the Juan F. Luis Hospital learned Wednesday that the federal agency that certifies hospitals for participation in Medicare and Medicaid has not extended a fast-approaching deadline for compliance, but hospital board chairwoman Kye Walker said she remains hopeful that JFL can win approval and continue.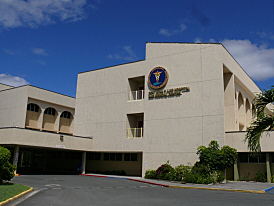 Walker spoke in a telephone interview Wednesday, discussing where the hospital stands after a tumultuous month which culminated Friday with the resignation of Chief Executive Officer Jeff Nelson.
On Wednesday the hospital's newly named interim CEO, Dr. Kendall Griffith, met with staff and told them that the Center for Medicare and Medicaid Services, known as CMS, the agency which certifies hospitals for participation in those two federal health care programs, had not agreed to extend the deadline for compliance. Without that certification, Juan F. Luis Hospital could not bill for those services and would face a much bleaker financial prospect.
Following a 2011 CMS inspection, the hospital was found deficient in 11 of 23 categories. In December 2011 the hospital entered into an improvement agreement with CMS. The deadline for showing improvement is drawing near, the hospital's most recent plan was rejected as insufficient, and the board learned this week that their request for a deadline extension has been denied.
The deadline is approaching at a time of stress at the hospital, with the shakeup of the top administration under circumstances that have not been fully explained, including whether the CMS issue led directly to Nelson's resignation, although the sequence of events could certainly suggest that.
On Wednesday Walker would not discuss details of the resignation; specifically she would not discuss whether the idea was Nelson's or the board's.
"I will not confirm or deny that the board asked for his resignation," Walker said.
In his resignation letter addressed to Walker, Nelson wrote: "As you requested, I will leave my position as chief executive officer today." But though she acknowledged that's what the letter says, Walker would not discuss the question further.
The Source has been unable to speak to Nelson since the resignation. Nelson had been hired to the vacant CEO position two years earlier as a "turn-around specialist," charged with making the hard, sometimes unpopular decisions necessary to pull the hospital out of a tailspin which found it deeply in debt and facing challenges from CMS.
Walker added Wednesday it would be wrong for people to try to blame JFL's problems on Nelson or to make him a scapegoat.
"A lot of these issues were facing the hospital before he ever got here," she said. "We made huge improvements and achievements under Mr. Nelson. Mr. Nelson obviously brought a lot of good to the institution. It would not be fair to say he was responsible for our problems."
The resignation capped a month in which the challenges facing the hospital and Nelson suddenly increased in urgency.
When Nelson took over, JFL owed creditors more than $20 million, owed the Virgin Islands government another $50 million, and had not had a profitable month in more than five years. After his first year on the job, the board had given Nelson a glowing review, and though the hospital was still on dangerous ground, there were signs it was pulling out of its tailspin.
It has now reported monthly profits – earnings before interest, taxes, depreciation and amortization – since May. Those profits are small and certainly not enough to take care of the debt, but they're a step in the right direction. One factor in increasing the monthly income has been an aggressive new collections system which is bringing in revenues for services that have been rendered.
The Senate also passed a measure forgiving the $50 million JFL owed the government.
The debt, which now stands at more than $30 million, continues to cause problems with leery creditors, the suppliers of goods and services the hospital needs to provide health services to the island, unwilling to provide further credit.
Of more concern is the Feb. 13 CMS deadline. The hospital has submitted two plans of correction, and both have been rejected.
"In December CMS sent a letter saying we were not going to make the deadline," Walker said. "One of the failures they cited was that we did not have a consultant in place (as required by the agreement with CMS.) We did have one, but the contract with our consultant expired in July, and we began using a new one, but we did not get that person approved by CMS."
Following the letter from CMS, the hospital's medical staff gave Nelson a vote of "no confidence." The specific causes for that vote have never been made public.
Also in December, the board agreed to create a position of chief operating officer, a medical person who would be in charge of the hospital's clinical operations. That stripped Nelson of some of his authority.
Walker explained at the time that the new COO would take over the hospital's clinical operations and would lead the effort to bring JFL into compliance with CMS guidelines, which was one of the agency's requests.
On Jan. 23 the board met in a lengthy executive session to go over the qualifications of three candidates for the new position. Nelson was asked to leave the session but remained at the hospital until it was finished. Some observers have pointed to that as a sign that Nelson was already either planning to leave or expected to be ousted, but Walker said neither was necessarily unusual – Nelson had been excused from some other executive sessions and always stayed until the board meetings adjourned.
Representatives of CMS were present at the Wednesday meeting, though Walker said the extension of the deadline was not discussed. The CMS officials briefed the board and staff on the level of communication they expect from the hospital as their review progresses.
"They let us know what they prefer in terms of timeliness and types of matters that are important to them," Walker said. "The relationship that the hospital has with CMS must be very transparent and open."
At the end of that meeting, the board determined to hire Dr. Kendall Griffith, a St. Croix heart specialist and director of the V.I. Cardiac Center, although his appointment was not immediately made public.
Then came Friday's exit interview with the CMS inspectors, which Walker said did not go well. It was at that meeting that hospital officials were told that the agency was not going to extend the deadline. After that, Nelson submitted his resignation.
Walker would not say Wednesday whether a particular action or event prompted the situation that led to the resignation any more than she would say whether the decision was Nelson's or the boards. But in the aftermath, the board voted Saturday in another emergency session to make Griffith the interim CEO.
At that meeting, Walker had stern words for those who had expressed concern.
"The persons who were present in the exit interview know and understand that we don't have the luxury of entertaining a transition period," Walker said Saturday. "I just want to make clear, I've received some calls from people who have questioned the decision to appoint Dr. Griffith as interim CEO, and that's not something the board is entertaining. The issues facing JFL are larger than the board, larger than everyone in this room, and it's a community issue. It's a territorial issue. We're not entertaining any nonsense about who can work with whom and who can't work with whom. Everyone has to get together and work as a team."
Walker said the hospital would submit its third plan of correction Thursday, and was cautiously optimistic it would be acceptable to CMS.
She said CMS had asked three major things: that the consultant be approved by the agency, and that has now happened; that a medical person be put in charge of the clinical operations, and with Griffith's appointment as COO and interim CEO that is now done; and that the plan of correction be approved. That remains to be seen.
If it is not approved, the hospital can again ask for an extension beyond Feb. 13, she said.
Walker said she did not believe the Juan F. Luis Hospital is near closing. "That's a possibility in general for any hospital, of course," she said. "So there's always the possibility, but it's not going to happen."
In the meantime, other efforts continue to stabilize JFL's finances and deal with its massive debt. The board had directed Nelson to explore other management structures and partners that could bring a needed infusion of cash, and those talks will continue, Walker said.
For more than a year there has been discussion about getting rid of the current governing structure of the territory's hospitals, where each hospital district has a board that is overseen by another board. In his State of the Territory address Monday, Gov. John deJongh Jr. again talked about the need to merge the management structures of JFL and the Schneider Regional Medical Center on St. Thomas into one hospital.
"Those talks continue to happen," Walker said. "It's something that should certainly be considered. We have far more bargaining power as one institution. We are able to save if we combine our purchasing, even just something as simple as purchasing equipment."
Walker also praised Griffith and looked forward to working with him.
"I think it will be a good thing. Dr. Griffith has a proven record of success," she said.