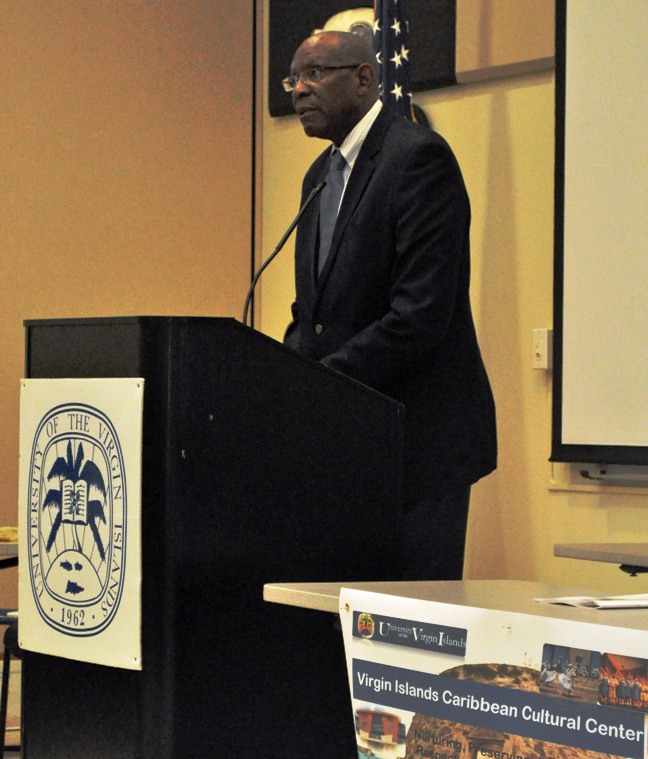 On Jan. 27, 2012, University of the Virgin Islands President David Hall circulated a memo to his task force on the preservation and cultivation of Virgin Islands and Caribbean culture. In the two-page memo's first paragraph, Hall wrote that UVI is "deeply and authentically committed to ensuring that the unique cultures and heritage of the U.S. Virgin Islands and wider Caribbean are researched, compiled, cultivated and disseminated broadly." He then pledged $50,000 per year from his office for three years so UVI could establish a center for the preservation and nurturing of Virgin Islands culture.
On Wednesday at UVI's Great Hall, just over one year after that memo was written, Hall stood proud with nearly 100 others as the Virgin Islands Caribbean Culture Center (VICCC) was born.
"This is a natural idea because the culture of a people is the source of strength and power. It is the power that allows us to not only hold on to the past and pull from it those things that need to be preserved, but it is also the power that allows us to transform our present reality," Hall said. "We achieve great things when we're aware of who we are."
Hall continued, stating that the passing of Dr. Gene Emmanuel 18 months prior made him realize that the idea of a cultural center for the Virgin Islands and Caribbean needed to be "institutionalized."
"He (Emmanuel) and others had been working on this for some time," Hall said to a clapping audience. "Now, in January 2013, this idea, this thing that was on paper, is alive and real."
Hall also expressed his pleasure with the fact that the center would be housed within UVI's College of Liberal Arts and Social Sciences (CLASS) and not exist as an administrative entity.
"The reservoir of culture that we have here in the Virgin Islands and wider Caribbean is not even largely tapped," said Dr. Simon Jones-Hendrickson, dean of the CLASS. "It is my sincere hope that we can begin to tap those internal waters of culture."
Referring to the name of the center, VICCC's director, Dr. Chenzia Davis Kahina said, "You'll notice that there is no 'and' in between 'VI' and the 'Caribbean' because it's all one."
She continued, "There is going to be some discussions on areas that are pertinent solely to unique history and heritages of the Virgin Islands," Kahina said. "Yet it also incorporates a wider vision of the entire Caribbean and all the nations globally that have influenced the Virgin Islands Caribbean experience."
The VICCC's permanent home, once the building is completed this spring, will be in UVI's new Research and Technology Park. Besides housing cultural information, recordings, productions and other materials, the center will also publish an annual scholarly journal, the first of which was released at Wednesday's launch.
Professor of Journalism Dr. Gillian Royes urged those present to be proud of the center and what it will provide to the entire region.
"We should think of ourselves geographically and symbolically as the center of the Caribbean," Royes said. "I know that, once we get the word out there, the interest and enthusiasm is going to be sparked across the Caribbean."
"We've needed this for a long time," she said.
Gerville Larsen, an adviser of the national trust for historic preservation, perhaps said it best as to why this center of cultural preservation was so important.
"We own this history. It's ours," Larsen said. "We have to take care of it."
Now there's a place that will do just that.