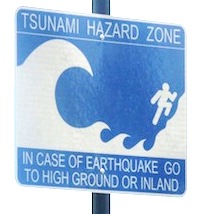 The V.I. Emergency Management Agency has begun installing tsunami hazard zone and evacuation route signs on the island of St. Croix. The signs identify coastal areas at high risk for tsunamis and directs residents and visitors to safety.
Universal, the company contracted to install the signs on St. Croix, began placing poles into the ground on Monday and erected the first few of the blue and white tsunami hazard zone signs along Frederiksted's Strand Street, as well as evacuation route signs on the town's perpendicular streets. Signs will also be put up in Christiansted. By next week, 56 signs will be up on St. Croix, according to a statement from VITEMA.
About two weeks ago, 53 signs were installed on St. Thomas and 11 on St. John. Bronx Communications, the contractor hired for the project there, installed signs at Lindberg Bay, Brewer's Beach, Crown Bay, Red Hook, in Charlotte Amalie's historic district, along Veterans Drive, and near the Ulla Muller, Dober and Addelita Cancryn schools. Signs are planned for Magens Bay, Coki Point and Havensight. On St. John, signs have been placed at Cruz Bay and Coral Bay.
"The tsunami sign installation project is part of a larger effort to prepare the territory," VITEMA Director Elton Lewis said in the agency's statement. "The tsunami sign installation project will be followed by the release of evacuation maps that depict possible inundation from this type of event and areas considered safe to evacuate to," he said.
The project places TsunamiReady status within reach for the Virgin Islands, which is a designation granted by NOAA's National Weather Service. VITEMA officials say the agency has been working closely with the NWS Caribbean Tsunami Warning Program to meet the requirements for the program.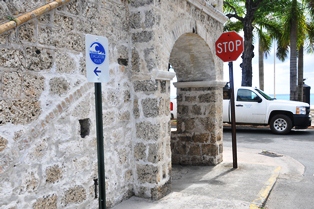 According to VITEMA, it has already met several requirements for TsunamiReady status, including:
– establishing the 911 Emergency Communications Centers as 24-hour warning points;
– establishing Emergency Operations Centers;
– developing multiple ways to receive and disseminate a NWS tsunami warning;
– developing a tsunami hazard plan;
– and holding emergency exercises.
The NWS program also requires VITEMA to develop evacuation maps and a tsunami awareness education campaign.
"We anticipate meeting the requirement for the development of evacuation maps within a few weeks," Lewis said. "We are also continuing our education campaign efforts. Three public service announcements, one of them in Spanish, have been developed for television and radio."
By the end of May, VITEMA says it intends to train more than 1,000 government employees in a tsunami awareness course conducted by instructors from the University of Hawaii's Disaster Preparedness Center. The agency also plans to make tsunami awareness presentations to various organizations and communities.
Along with tsunami signs, VITEMA expects to complete 11 more tsunami sirens on St. Croix and St. Thomas.
The work is the culmination of several years of efforts to upgrade tsunami preparedness. The V.I. Legislature appropriated $40,000 in 2010, [Act 7185] to supplement a $42,000 grant from the National Oceanic and Atmospheric Administration. (See related links below)