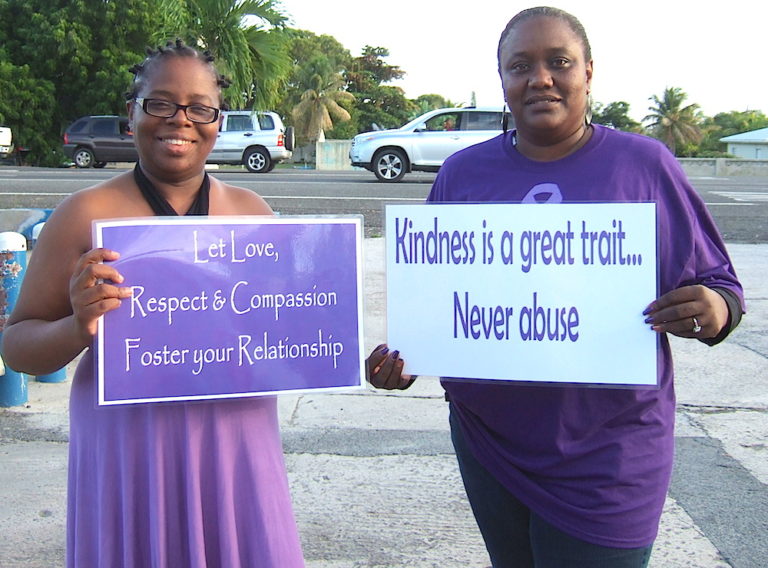 Motorists were treated to dancing and upbeat music Friday afternoon as supporters of the V.I. Domestic Abuse and Sexual Assault Council gathered for a flash mob at the Super Tank gas station in Sunny Isle.
The event was held to commemorate the end of National Domestic Violence Month and remind the public that domestic abuse happens every day, according to Khnuma Esanason, DVSAC director.
"We decided to end Domestic Violence Month with a fun event where everybody could get involved. We selected this location so everybody can see what it's all about," Esanason said.
The dancers, women of all ages, dressed in purple, stepped together enthusiastically carrying anti-violence signs for an hour as D.J. Swain played upbeat music. Motorists occasionally accompanied them with cheers and honking horns.
Started in 1986, DVSAC was under the umbrella of the Women's Coalition of St. Croix. Last year, it became its own non-profit organization that receives funding from two federal anti-violence agencies. They also accept donations to help with events. The council's focus is on domestic violence, child abuse, sexual assault, dating violence and stalking.
With an operating budget of less than $500,000 and eight staff members, the council has hosted healthy relationship conferences on both islands with a nationally known speaker, and a Pretty in Pink event with free nail and facial makeovers from Mary Kay representatives. Also this year, there was an open house on St. Croix, and the 501c3 organization has partnered with the Women's Coalition for the annual Take Back the Night march.
DVSAC's activities include emergency services for victims of domestic violence and sexual assault and the People's Court Watch program that sends volunteers to impartially observe civil and criminal court proceedings.
There are nine members on the DVSAC board — four each on St. Thomas and St. Croix and one from St. John. Melbourne Adams, board treasurer, is one of the founding members. On Friday, as he watched the flash mob, he talked about starting the council. He said it began as a result of the first domestic violence conference in the territory. He and others then attended a conference stateside and learned how to start and organize the agency.
Interested parties are encouraged to call 340-719-0144 or visit the website www.dvsac.net for information about donating or volunteering.