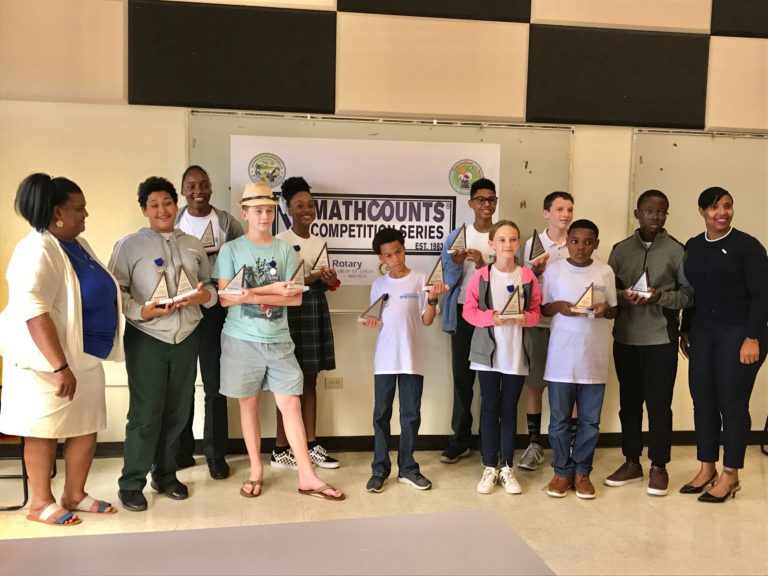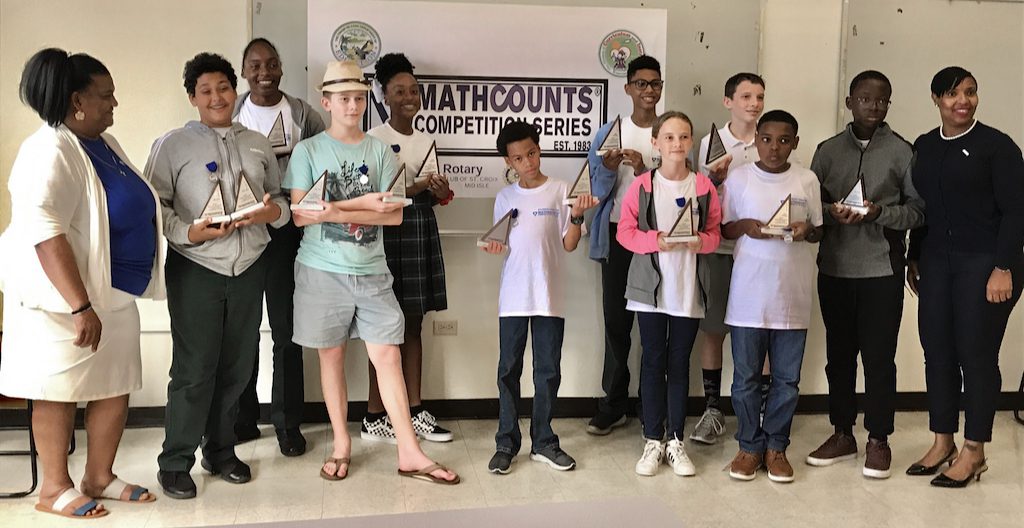 Four schools competed in a rigorous display of mathematical talent in four rounds of individual and team work as they vied for first place, but it was the Church of God Academy students who took the ultimate prize in the MATHCOUNTS competition.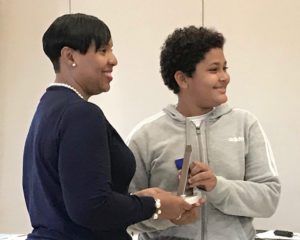 Held Thursday in the Great Hall at the University of the Virgin Islands St. Croix campus, Church of God Holiness Academy, Good Hope Country Day School, Ricardo Richards Elementary School, and John H. Woodson Jr. High School students came prepared with winning as their only option. And win they did, in different categories, making their schools proud by meeting the criteria necessary for their travel to St. Thomas and upcoming territory-wide challenge.
The national middle school mathematics competition was established in 1983, building problem solving skills and fostering achievement through four levels of fun, in-person "bee" style contests, as its website shares. The U.S. Virgin Islands has participated since its start in 1983, and St. Croix joined the competition series in 1985.
St. Croix District Mathematics Coordinator Juanita Boneque opened the 2020 MATHCOUNTS competition by recognizing the Department of Education and congratulating the participating schools and their teachers. "Every mathlete here should be proud of his or her achievements," she noted. Referring to the competition as a prestigious event, Boneque added, "You are all winners. We extend our deepest appreciation to the educators who donate their time as coaches."
Moderator Basil Williams Sr. kept the students and spectators entertained with humorous stories between the rounds, which eased the tension of tough competition. "It is a pleasure to be here to encourage the students to continue to love math," he said.
The MATHCOUNTS Competition Series offered four levels of competition:
Sprint: Thirty questions in 40 minutes; students work individually; no calculators permitted.
Target Round: Four pairs of questions; 6 minutes per pair of questions; students work individually; calculators are permitted.
Team Round: Ten questions in 20 minutes; four team members work together; calculators are permitted.
Countdown Round: Fast-paced round where students battle head-to-head in a test of speed and accuracy; top 10 students participate; results determine competition winner and advancement to the state competition.
Zahra O'Reilly-Bates, a Ricardo Richards Elementary School teacher, has participated in MathCounts for more than 10 years. "I enjoy math, and I enjoy exposing students to math," she said. "For those who have a problem, I let them see the relevance it has in their lives, and that helps."
O'Reilly-Bates' team consisted of all sixth grade students – the youngest grade of all the competitors. However, it was Church of God Academy that came in first place as a team, first place with the highest score, and first place in the Countdown Round.
Stephen Marcel, Church of God Academy's assistant principal, math counselor and teacher shared his satisfaction with the win. "We have come in second place for 7 years. We have never crested," he recalled. "I am so happy we have achieved this now."
Breaking the day down as a play-by-play, Ricardo Richards sixth grader Lauren Jones competed twice against two eighth grade GHCDS students in the Countdown Round, beating them out to go head-to-head with eighth grader Zanyja Rodriguez. Church of God Academy's Rodriguez then beat Jones and won the Countdown Round for his school.
"Actually, it surprised me," Rodriguez shared.  "I thought I would not get through it. I could feel my heart pounding, but I did get through."
Samir Boucenna brought home the First Place title and highest score for Church of God Academy. The seventh grader had no idea he would garner such a title. "I really just assumed I would do what I've done before," Boucenna shared. "I've done third place, and last year, I came in seventh place. It's really an honor to be in first place."
The top 10 students will now travel to St. Thomas to compete territory-wide.
Samir Boucena Church of God Holiness Academy
Zanyj Rodriguez Church of God Holiness Academy
Lauren Jones Ricardo Richards K-6 School
Jaden Gonzalez Church of God Holiness Academy
Michael Atwell Good Hope Country Day School
Nick Turk Good Hope Country Day School
Darryl Griffith, III Ricardo Richards k-6 School
Andrew Thompson Good Hope Country Day
Kristina Horsford Church of God Holiness Academy
Aundre Dolcar Ricardo Richards k-6 School
Keemar Croskey Ricardo Richards k-6 School – Honorable Mention