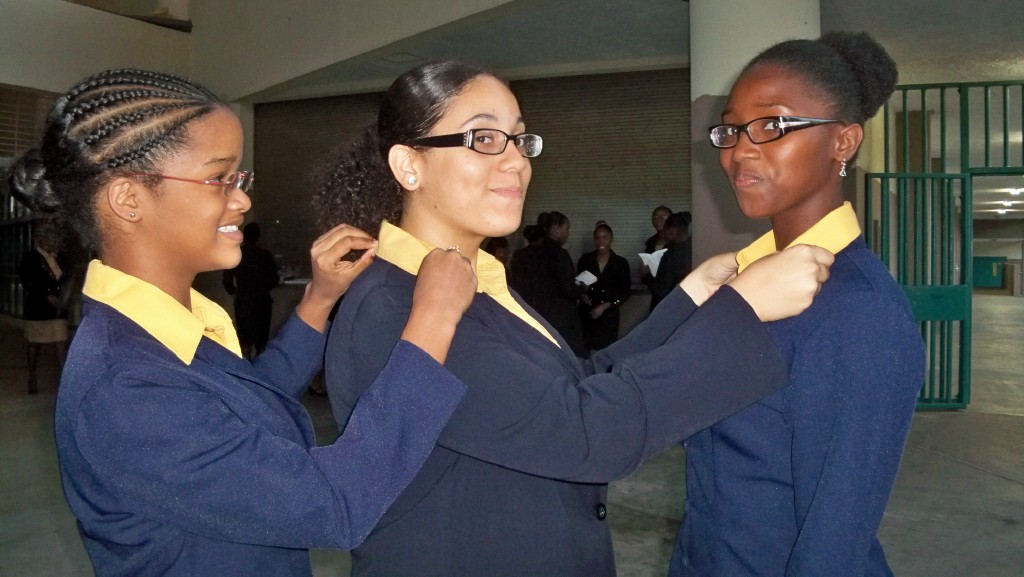 From the appearance and comments Tuesday of inductees to the Future Business Leaders of America (FBLA), St. Croix's future business community should be in good hands.
More than 200 students from Arthur A. Richards, Elena L. Christian and John H. Woodson junior high schools, St. Croix Central High School, St. Croix Educational Complex, St. Croix Career and Technical Education Center and Good Hope School were inducted at the annual candlelight ceremony.
The students were dressed "neat as pins," looking professional in navy blue suits, blazers, yellow blouses and dress shirts, and navy blue neckties. Some of the girls said they had sewn their suits for practice as fashion designers and seamstresses who hope to one day have their own business in the clothing industry.
"The skills I have learned will help when I go to college," said Good Hope sophomore Nyesher Serrant. "And those skills will also be a benefit in my future."
The junior high students even helped advisors and took charge organizing their classmates for the procession into the Educational Complex High School auditorium.
There were 17 boys inducted into FBLA. They were asked to stand up and be recognized for joining the organization and taking strides to ensure success in their future.
Kareem Edwards, also a Good Hope sophomore, said the FBLA program will be helpful to his future and career.
Incoming elected officers were called to the stage and lit candles to symbolize the duties with which they are charged.
Jahlilah Prentice, a junior at Good Hope, said she is learning leadership, public speaking, accounting, and business ethics.
"We strive to be the best," Prentice said. "We are learning proper business etiquette and how to conduct business."
Tuesday's panel of speakers included Sana Joseph Smith, the general manager of IHOP.
Sen. Shawn-Michael Malone said future business leaders need to be cultivated in the U.S. Virgin Islands. He added he is very pleased with the leadership the schools and advisors have taken in inspiring the students.
Maria Encarnacion, St. Croix deputy superintendent of schools, encouraged the students to look to the future and think seriously about starting their own business.
"Take the challenge and risks," Encarnacion said.
The ceremony concluded with the inductees lighting candles and taking the FBLA pledge to uphold the organization's tenets and to strive to develop the qualities necessary to become a responsible business leader.