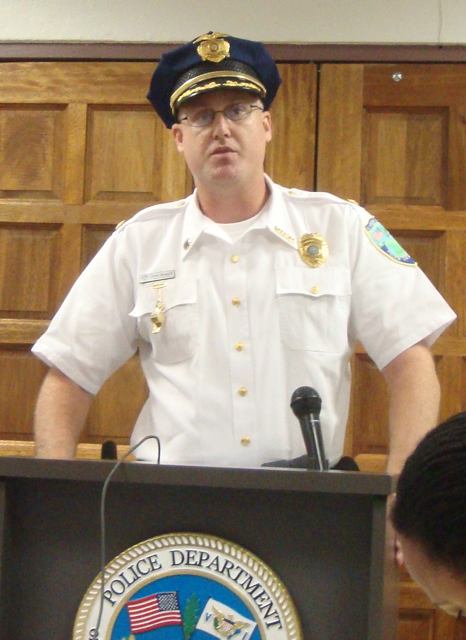 Christopher Howell, deputy police chief of St. Croix since April 2009, was named Friday as the new chief for the district, effective Monday.
Police Commissioner Novelle E. Francis Jr. announced the appointment in a press release Friday afternoon.
Howell will replace Oakland Benta, who was named director of the St. Croix Police Training Academy.
"I am confident that Chief Howell will use his 19 years of experience, expertise and leadership skills to lead VIPD operations as our community is seeking a greater level of public safety and security," Francis said. "Howell has served as St. Croix deputy police chief since April 2009 and I know that given his experience, his commitment to the people of St. Croix and his ability to outreach to the community, Chris is the ideal candidate to now lead police operations."
Prior to 2009, Howell was assigned to the High Intensity Drug Trafficking Area Task Force. He has expertise in investigating local, national and international drug and weapons trafficking, as well as surveillance. Howell also taught drug investigation and affidavit writing for more than 10 years at the Police Training Academy. He holds a bachelor's degree in community and human service with a concentration in criminal justice from Empire State College in Saratoga Springs, N.Y.
As deputy chief, Howell led the revamping and rehabilitation of the police property and evidence room, created and coordinated the "saturated patrols" policing strategies and improved police-community relations through outreach in several housing communities and neighborhoods.
"I am confident that Chief Howell will continue and solidify the bridges that have been built with the community while providing solid leadership to the police operations division," Francis said.
Benta, in his new role as Training Academy director, will bolster the training that is provided to each cadet who comes to the department seeking to make a difference in our community as a law enforcement officer, Francis said.
"This is a crucial position to guide, instruct and prepare new recruits to be outstanding police officers," Francis said.
Benta joined the police department in 1984 and served more than 15 years before accepting employment in the private sector. He returned to the VIPD as police chief in February 2008. While employed in the private sector Benta maintained his ties to the VIPD, serving as an instructor with the department's training academy.