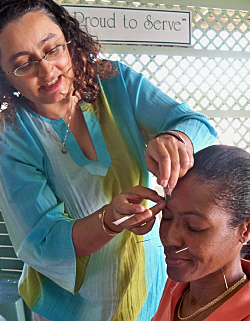 It was a "nice comfortable space for people to talk about health," said Sandra Phaire of Rotary Club Harborside, one of the sponsors of the sixth annual Health Fair and Blood Drive Saturday at the St. Croix Rescue headquarters at Five Corners. Not to mention the free acupuncture in addition to blood tests, HIV/AIDS testing and the like.
A good 75 people or so showed up for the free health screenings: Shaniece Charlemage, of the V.I. Breast and Cervical Cancer Early Detection Program at the Department of Health, gave pap tests and breast exams. Volunteers from St. Croix Rescue Squad helped test glucose, cholesterol and check blood pressure. Dr. Nelson Edwards gave information on the effect of diabetes on eyes and vision. Nephrologists Tasnim Khan and Dr. Jan Tawakol gave people information on kidney disease and dialysis.
Phaire said they tested 25 people for HIV/AIDS. "The testing went well and was very successful. We met all of our expectations and goals," she said.
Acupuncture administered by Serena Sundaram, who holds a master's of science degree in Oriental medicine, looked to be a popular stop. Solemn women were sitting at the table with pins sticking out of their foreheads, noses, hands and ears, getting a sample of how acupuncture can relieve all sorts of ailments.
Beverly Hermon, past president of St. Croix Rotary, was trying it out to relieve sinus pressure and pain.
"It wasn't as uncomfortable as I thought it would be. It was just a little pinch when it hit a nerve," Hermon said. And she did feel some relief, she said.
Debra Andrews, blood bank technician, manning the mobile blood unit of the Gov. Juan F. Luis Hospital Blood Bank said they collected 12 pints of blood.
Two of the donors were 17 year-old twin brothers Kevin and Kai Moolenaar, who said they wanted to do the right thing by donating and encouraged others to do the same.
"It was my first time and I was kind of edgy at first," Kevin Moolenaar said.
"Once you actually do it there is nothing to be afraid of," Kai Moolenaar said.
Andrews said the whole donation process takes around 45 minutes and the actual drawing of blood around 10 minutes. Donors had their blood pressure taken and were checked for anemia. Technicians draw about one pint from donors, the average person has 10 to 12 pints of blood. The body replaces the blood in 24 hours. Andrews said people can donate blood every 56 days.
She said it costs the hospital around $235 to purchase a pint of blood from the Red Cross in Puerto Rico. If it is collected locally it costs just $55 per pint for testing.
Laurissa Ellis, Harborside Rotarian, says she has donated blood the last three years. "I donate because I think of how much it costs the hospital to buy blood. There is a five second pinch, but you can save a life by donating," she said.
The health fair was also sponsored by St. Croix Rotary and St. Croix Rescue Squad.