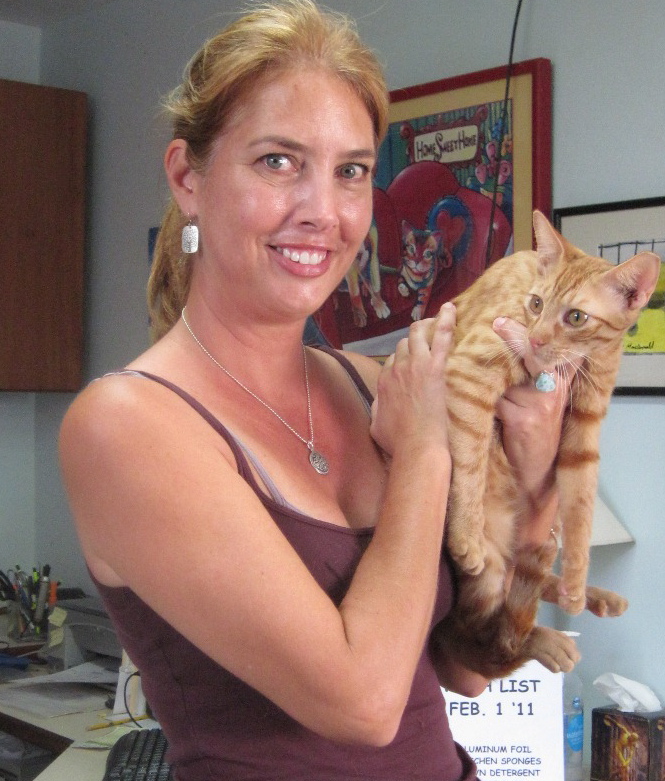 The Animal Care Center has a streamlined board, a new direction and an upgraded job title for the person who runs its shelter. And they hired Sally Nelson to fill that job.
She began work in mid-January, and said it's a perfect job for her.
"I have a love of animals and it's a way to get involved with the community," she said.
Karin Schlesinger, who sat on the Animal Care Center's hiring committee, said the center needs to move to a new level. With that growth came the need for a shelter administrator with computer, data base and website skills as well as the ability to serves as the Animal Care Center's public face.
"Sally has the right skillset, personality, attitude, and disposition to do that," Schlesinger said.
Former shelter manager Connie Joseph now works part-time at the shelter.
Nelson, 47, has lived on St. John for about 15 years, spending some of that time working at places like the Clothing Studio and the Sail Loft. She worked many years in the villa business and at Connections mail service before settling in to a job with Carefree Getaways, a villa management company.
The Eldorado Hills, Calif., native was between jobs when she decided to head to St. John, a place she'd never been. Nelson worked for the California Almond Board doing advertising and statistical analysis, but her job went south from Sacramento to Modesto and she didn't want to make the move.
Nelson had visited St. Thomas several times, and thought that was where she'd eventually land. However, like so many others who now call St. John home, she heard about the four-hour worker program at Maho Bay Camps. The campground provides a tent for sleeping and discounted food in return for four hours of work a day. She signed on, still thinking that once she got her feet wet, she'd move on to St. Thomas.
"Within a month I found a place to live and I never left," she said.
Some years ago she started volunteering at the Animal Care Center, experience that helps now that she's responsible for directing volunteers who come to walk the dogs, running the weekly Tuesday cat adoption program at the Marketplace shopping center, organizing an education program that offers programs in schools, and helping the board of directors run the Animal Care Center's three annual fundraisers. They are the Wagapalooza, slated for May, the No Fleas Please fall flea market, and the gala held around the Christmas holidays. She's also responsible for taking dogs and cats off to the veterinarian for the weekly Wednesday spay and neuter day.
Last week, the shelter had eight puppies, five dogs and about two dozen kittens looking for homes.
After looking out for that group, she goes home to six cats.
"Anne Marie Porter, Laszlo, Vashley, Thatcher, Pippin, and the newest addition, Enzo," she said, ticking off the names of her pet family.
The job and the cats don't leave her much free time, but since the water is now too cool for swimming, she hikes a lot. When the weather warms, she'll start swimming again.
And she paints in acrylics.
"But I can't make a living at it," she said.
Readers can visit www.stjacc.org or call 774-1625 to learn more about the Animal Care Center.