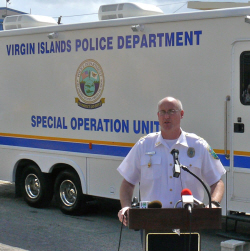 Despite harsh fiscal circumstances this year, the V.I. Police Department now has a fully tricked-out mobile Special Operations Unit, with a booking station, holding facilities, trauma medical kit and life-saving defibrillator, thanks to generous help from local businesses, individuals and fellow government agencies.
Police rolled out the unit Friday afternoon at a press conference in the Aureo Diaz Heights Housing Community. The unit is housed in a massive Winnebago donated by the V.I. Housing Authority that has been repaired, refurbished, repainted and reequipped for police use, at no charge to taxpayers.
A similar new vehicle would cost more than $250,000, before the considerable expense of converting it into a mobile police station, Police Commissioner Novelle Francis said during the press conference. Similar new Winnebagos are listed at $209,000 and up on the Winnebago website.
The entire process began only three months ago, St. Croix Police Chief Chris Howell said at the unveiling. Purchased in the early '90s by the Education Department as a mobile computer lab, it was very lightly used for many years, before Education donated it to the V.I. Housing Authority,
"It really needed a lot of repair, so we reached out to all the sponsors you see listed on the back of the vehicle, and they really responded," Howell said.
The project was a truly cooperative venture, he said.
Car Zone donated engine parts and work. The V.I. National Guard offered its mechanics shop and trained personnel to fix up hydraulics, electronics and and array of mechanical repairs. Inmates at the Golden Grove Adult Correctional Facility spent hours sanding rust and paint off the body. A Plus Signs donated all the logos and signs on the vehicle. Continuum Care Hospice donated an automatic electronic defibrillator, oxygen and first responder's medical kit with some technical help from Cher Wills and the St. Croix Foundation's AED Fund. Hovensa contributed cash, and many others helped as well.
Howell said he expects the new vehicle to get lots of use: as a mobile station at the annual Agrifest and Christmas Festival and at fairs, college dorms and community events of all kinds. He said it could also be used for saturated patrols and DUI checkpoints. It will make life easier for officers by letting them book and hold individuals in secure and relatively comfortable circumstances, without "tying up officers' time" transporting prisoners to Golden Grove Correctional Facility, then returning to the scene, he said.
"Its mere presence can be a deterrent too," Howell said. "Obviously, it is a big billboard saying the police are in town."
Assistant Police Commissioner Raymond Hyndman said the project was a perfect example of the community working together with police.
Other contributors included Turner Industries; H&H Tires & Batteries; Eddie's Glass; Computer Solutions; St. Croix resident James Bennerson; V.I. Department of Education, Cost-U-Less, Gov. John deJongh Jr. and Police Commissioner Novelle Francis.
Editor's Note: This article has been updated to indicate Continuum Care Hospice donated a defibrillator and other items. The AED Fund provided help in sourcing and selecting the items but did not donate them.