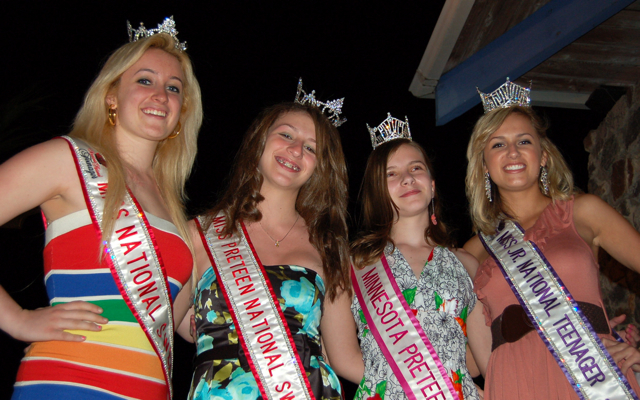 They're young, attractive, smart, confident and talented. Just don't call them beauty queens.
Four poised young ladies from the America's National Teenager pageant visited St. Thomas this weekend on a whirlwind four-day trip that they won as part of the ANT competition prize package.
The trip (with their parents) included a meet-and-greet with Sen. Shawn-Michael Malone, a tour of the Legislature building, a "coronation" ceremony, a snorkeling excursion, and lots of shopping, dining and exploring the island.
On Friday at the Marriott Frenchman's Reef Resort the tiara-ed girls and their parents relaxed and enjoyed the view at the Sunset Bar & Grill while explaining that the pageant is about so much more than looks.
"It's not a beauty competition," said Angelina Rizzuto, who won Miss Preteen National Sweetheart 2011. "It's about scholastics, community service, friends, and what's inside you."
Founded in 1970, the pageant, which is the oldest competition of its kind in America, includes competitors from all 50 states and four territories, including the Virgin Islands.
Girls from age 11-25 compete in four age divisions and are scored based on five categories: academic excellence, school and community activities, social and conversational skills, poise and personality in an evening gown, and onstage and offstage interviews.
Judges do not scored based on hair, makeup or clothing, and there is no swimsuit competition. There are also optional unscored talent and speech competitions at the state level.
Over $5 million in prizes are given out annually, including college scholarships, travel opportunities, and personal products. The competition is supported in part by entrance fees, and partly by sponsors such as American Airlines, Savvy magazine, and John Robert Powers modeling agency.
According to pageant producer Michael Hartman, the girls love the prizes, but they also treasure the intangible benefits they get from the state and national pageants as well.
"They interact with and make friends with girls from all over the country," Hartman said. "And they have an opportunity to do positive things for other youth, and to be role models."
Erika Rech, 19, of New Jersey, who won Miss National Sweetheart 2011, said that she sees the pageant not only as a growth opportunity for herself, but also as a platform to raise awareness of breast cancer.
Rech started her own fundraising foundation, called Breast Friends Forever, after two family members were diagnosed with the disease. The foundation helps patients pay for things like wigs and insurance co-payments.
"My high school guidance counselor originally suggested I get involved in pageants," said Rech, now a freshman at Villanova University. "I like meeting the other girls, and it's also a good way for me to get my message out about breast cancer."
Some of the other girls said that the confidence boost they got from competing in the pageants was the most invaluable benefit.
"You probably wouldn't have been able to get me to come out of my bedroom before I got pageant experience," said Rizzuto, who hails from Washington, D.C. "Now I am comfortable being on stage and speaking in public. It brought me out of my shell."
Fifteen-year-old Michelle Robichaud of New Hampshire, the national junior division winner, said that the live pageant competitions, particularly the interview portion, have given her an invaluable foundation for college and beyond.
Robichaud also said she has made some of her best lifelong friends through the pageants, and has gotten the opportunity to travel not only to the Virgin Islands, but within the U.S.
"ANT lets you travel to other states to help out with their pageants," she explained.
Michelle Bergh, who at 11 years old was the youngest competitor of the bunch, liked how the pageant provided a natural outlet for her love of performing.
"I've been singing since I was five years old," she said. "The pageants helped me get into performing. Some day I want to be an actor or a singer — or a news anchor." Bergh, who is from Minnesota, was the winner of the Minnesota state competition's pre-teen division.
Bergh's father said he was initially opposed to the idea of his daughter entering the pageant, but when he saw how the skills developed could benefit her in college, he changed his mind.
"The girls develop so many valuable skills, particularly in public speaking and communication, and it really builds their confidence," he said proudly.
Pageant CEO Jenny Telwar explained that the girls were perfect examples of how the competition aims to build character, skills, and friendships, and reward young women for their scholastic and community achievements.
She also encouraged more girls from the Virgin Islands to enter. She said there were on average about 10 to 15 entrants from the territory, a number she would love to see increase.
"At the moment the Virgin Islands does not have its own state pageant, so instead the girls are judged based on an application they submit to the judges at headquarters in Nashville," she said.
America's National Teenager is currently accepting contestants in all divisions, from ages 9 to 25. Paid airfare to Miami for the national competition in July 2011 is included with each division title.
For more information on the pageant and how to become a Virgin Islands competitor, visit www.nationalteen.com or e-mail Jenny Telwar at [email protected] or call 866-Nat-Teen.