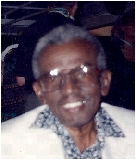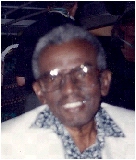 Ralph Valdemar Simmonds of Sugar Estate died on Feb. 23. He was 90 years old. Simmonds, an honored World War II veteran, is survived by his wife of 66 years, Viola L. Simmonds; sons: Rhett, Roi and Henry "Mickey" Simmonds; daughters: Blanche Simmonds Yearwood, Ruby Simmonds Esannason and Ralda Simmonds; special nephew, Al Simmonds; grandchildren: Michelle Chesterfield, Charlette Thomas, Loán Sewer, Zenzilé Hodge, Neil Yearwood and Sulema Simmonds; great-grandchildren: Jahmal Luke, Jamo Luke, Andria Weekes, Andre George, Rafael E. Hodge and Darrian Yearwood; son-in-law, Rubio Esannason; special daughter, Shermel Osborne; grandson-in-law: Aaron Hodge Sr.; as well as nieces, nephews, caregivers, and many other relatives and friends.
Simmonds was a longstanding member of Frederick Evangelical Lutheran Church and served in many capacities during his lifetime. He was a retired postal supervisor at the Veterans Drive Station (36 years), and was instrumental in ensuring that the Virgin Islands secured a presence in the National World War II Memorial in Washington, D.C. In 2004, he and his wife, Viola, attended the WWII memorial dedication ceremony as charter members and guests of Delegate Donna Christensen. He was a charter member of the James H. Oliver American Legion Post No. 90 on St. Thomas. Simmonds was also an avid supporter of the adult softball leagues at Emile Griffith Park and the Girls Scouts.
A viewing will be held from 4-6 p.m. on Sunday, March 6, at Davis Funeral Home, and from 9-10 a.m. on Monday, March 7, at Frederick Evangelical Lutheran Church. Funeral Services will begin at 10 a.m. at the church. Interment will be held at Eastern Cemetery.
All arrangements are by Davis Funeral Home, 774-1464.