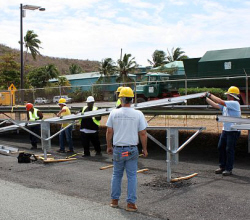 The V.I. Port Authority officially unveiled its $2.9 million photovoltaic solar panel project Friday, which is expected to save the agency hundreds of thousands of dollars every month on power costs at the Cyril E. King Airport.
The 450 kilowatt installation is one of the largest in the Caribbean and will generate more than 660,000 kilowatt hours of renewable energy each year, VIPA and energy officials said at a press conference held Friday at the airport.
"That's like producing in one day as much as five households would in a month," said Don Buchanan, V.I. Energy Office media information specialist. The Energy Office supplied the funding for the project, which was awarded through an American Recovery and Reinvestment Act grant and turned over to VIPA for energy efficiency efforts at the airport.
Construction on the project began just about two months ago and has moved fast, with completion slated within a month or two, Buchanan said. When finished, the new solar system will be 1,500 feet long and 14 feet wide, with the shelf life for the equipment spanning at least 20 years.
"It's supposed to be finished in the next month, month and a half, and we're really excited to see what's going to happen," said Dale Gregory, VIPA's engineering director. Savings to the Port Authority should be 15 percent, or between $300,000 and $400,000 a month.
Project Manager Jay Barry said after the press conference that one of the subcontractors on the project, OneWorld Sustainable of Georgia, implemented an educational outreach program that brought in interns from the University of the Virgin Islands to work on the system.
"We got them out here working, and the knowledge they're getting from this is going to be great for them moving forward," he said.
Barry said the system is going to hook up to a nearby net metering system, so VIPA can be credited for whatever energy goes onto the V.I. Water and Power Authority's grid.