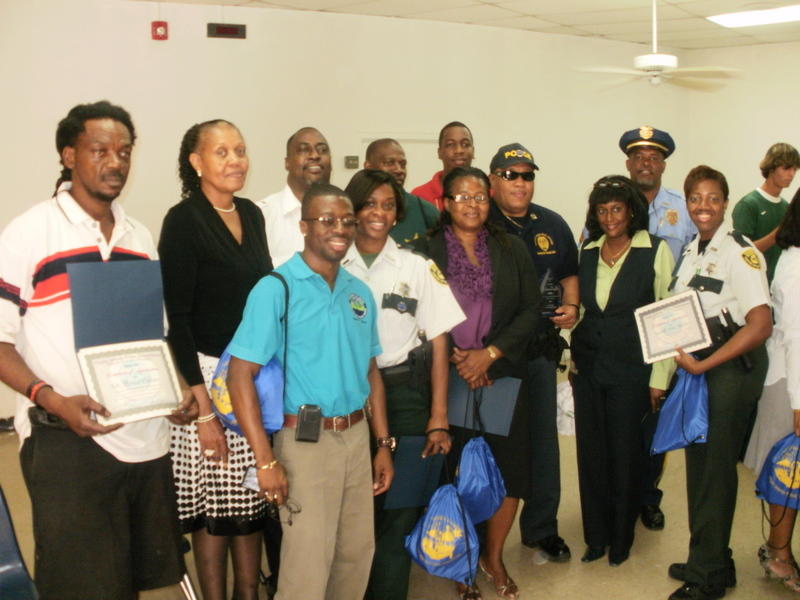 The Virgin Islands Police Department's Law and You program has graduated more than 40 All Saints Cathedral and Ivanna Eudora Kean High School students during a ceremony held at their respective schools. The students learn that wise decision-making, staying in school, respecting their parents and having positive friends sets them on the road to success. St. Thomas Deputy Chief Dwayne DeGraff emphasized that character defines who you are. "The law begins at home. If you don't have respect for your parents, you won't have respect for others," he said during the ceremonies, which were held Thursday and Friday, April 28 and 29 on St. Thomas.
School Resource Officer Roy Chesterfield, who is credited with starting the program, spoke from his heart and became overwhelmed with emotion. "I have seen a lot of dead youngsters in my life, and it makes me feel good to see everyone here today," he said holding back tears during the ceremony at All Saints.
Law and You students partner with local and federal law enforcement and government agencies to help reduce juvenile delinquency in the territory. The students tour the V.I. Superior Court Magistrate's Division, Bureau of Corrections and the morgue at the Roy Lester Schneider Regional Medical Center. This approach discourages delinquency in children by showing them the consequences of wrong doing, which can be incarceration or death.
The trip to the morgue made an impression on the students "It showed me what can happen to you if you throw your life away," said 18-year-old Eudora Kean student Olani Beltou after seeing the corpse of a gunshot victim. "I will definitely recommend the program so they can teach more children," he said.
During the prison tour, the children were lead through hallways and saw different clusters that held detainees and inmates before visiting the recreation area. When the Eudora Kean students were asked if they knew any of the inmates about half of them raised their hands and said yes.
The students learned prison life is not as glamorous as some perceive it. They learned that inmates have no freedom, have to endure strip searches, can be assaulted by other inmates or, in some cases, die in prison. The inmates encouraged the children to make this trip to the jail their last.
Speaking through steel bars, one inmate told the students, "The people on the streets aren't your friends. Someone ratted on me and now the officers are the only ones helping me!"
School Security Bureau Commander Lt. Alva Chesterfield, Corporal Alvaris Julien, Officer Akeem Turnbull, Secretary Sally Powell, superior court marshals and corrections' officials attended the ceremonies.