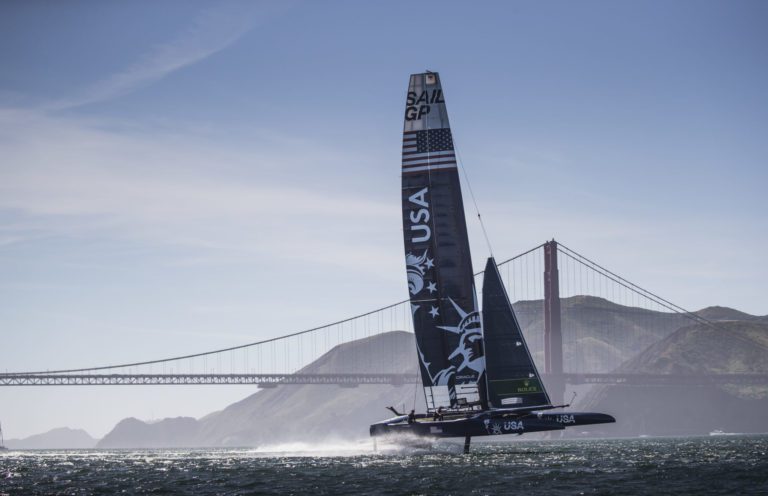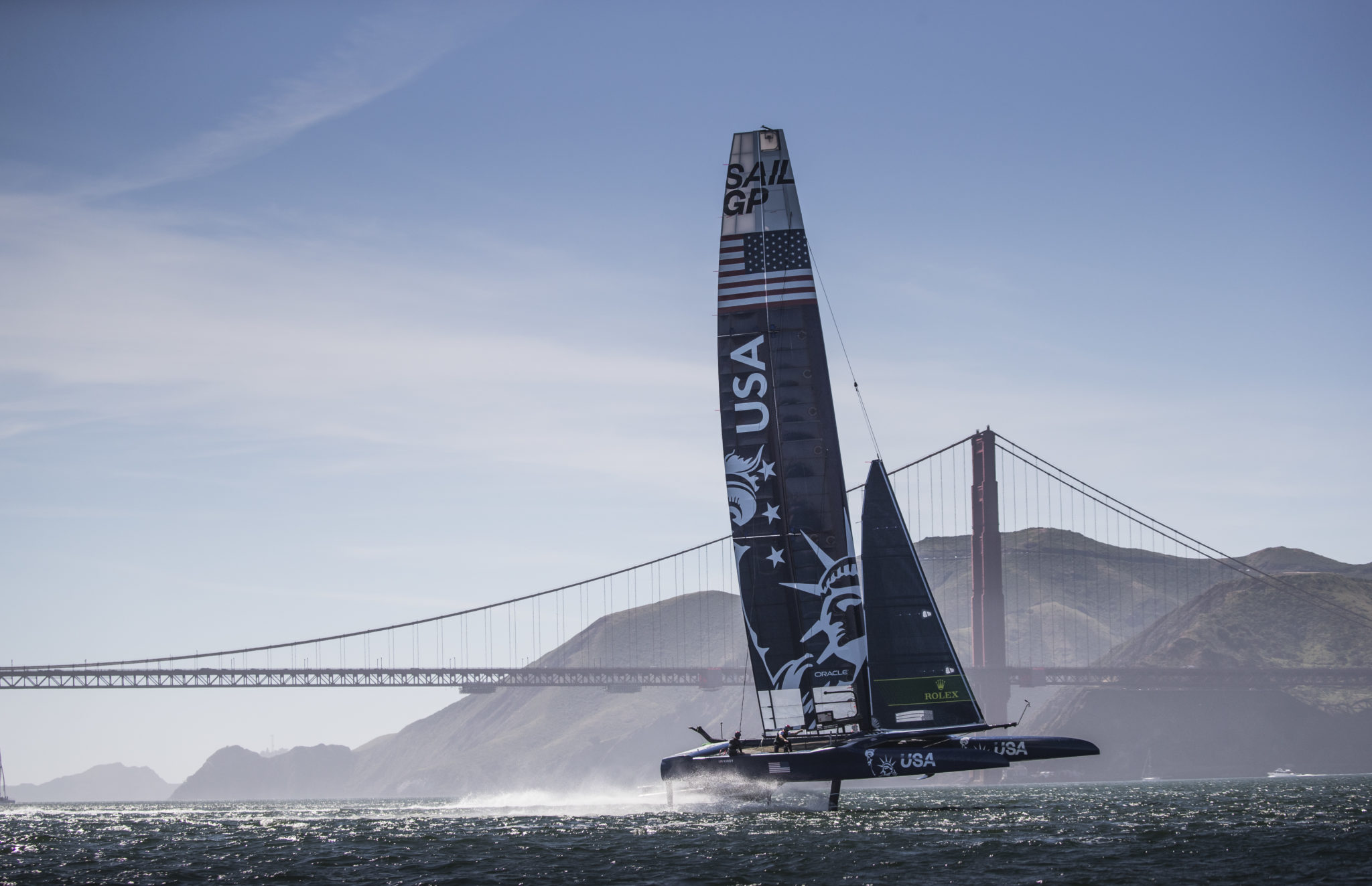 A generation ago, world champion sailors raced for trophies and maybe travel reimbursement. Today, top sailors are full-time professional athletes, and Virgin Islander Taylor Canfield, 31, is at the height of his profession.
Canfield holds a reputation among sailors for winning multiple world championships in multiple boats since 2013. Now the lobby of the St. Thomas Yacht Club is decorated with a photograph of him in action for a World Match Racing Championship.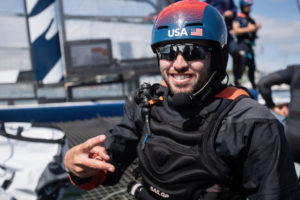 As flight controller aboard a 50-foot hydrofoiling catamaran, Canfield is one sailor serving on a five-man crew and racing aboard a boat that goes over 50 miles per hour, with carbon and steel water wings lifting the boat and crew about 3 feet above the sea.
"My job as flight controller is to keep the boat foiling all the way around the race course. Depending on the conditions, I can help give some input to tactics, but generally the concentration needed to fly these boats well is a full-time job," Canfield explains.
The boat requires teamwork similar to a professional football team, and the level that Canfield sails is similar to the NFL. "While we all have unique jobs on the boat, it is really a huge team effort to make these boats go fast," he says.  The team consists of a helmsman, wing-trimmer, flight controller, and two grinders.
Canfield sails for team United States SailGP, one of seven national teams about to embark on a second season of professional racing. This season's first regatta begins next Thursday, February 27, in Sydney Harbor, Australia. The season also includes regattas in San Francisco, New York, and two European events.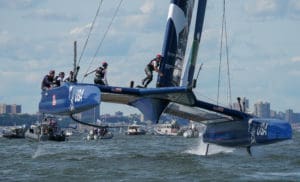 SailGP is the brainchild of Oracle founder Larry Ellison, described by the regatta website as "personally and financially committed to the growth and advancement of sailing for multiple decades."
As Canfield notes, "SailGP is sailed in a class of boats now known as the F50. These boats were previously designed for the last America's Cup in Bermuda but have all been modified to fit into a very tightly monitored one design class, making the boats practically identical. The series is unique because these are currently the fastest sailboats on the water, and the results truly rely on the teams representing their nation."
The sailor adds, "They are one of few classes that are powered by a rigid wing structure rather than a soft sail. It would be like an average driver getting into an F1 car and trying to get it around the track. Mistakes are costly and can often be catastrophic, so knowing when to throttle back is an important part of the boats."
Canfield's analogy of F1 race cars goes both for the quest for speed around a race course and for sponsor dollars that will grow the sport.
For America's Cup, teams spend $200 million to compete in a race that happens once every three years. Ellison has worked for over a decade to revolutionize the designs of the America's Cup yachts, and attracting big dollar sponsors like BMW and Airbus. Moreover, Ellison's commitment to racing state of the art sailboats led to his creating SailGP two years ago. He pledged a $5 million annual budget for each SailGP team for five years, built seven $4 million boats, and pays a $1 million winner-take-all purse.
From Canfield's point of view, "It's been an incredible time to be involved in the sport, from slow monohull match racing to F50 fleet racing and everything in between. I love the new challenges but also love the old school sailing with no computers. Tactics and reading the wind will always exist no matter how much technology is on the boat," Canfield believes.
"There is nothing better than going out on the fastest boats in the world and representing your country," shares Canfield. "Can't beat sailing in the Caribbean with the trade winds and crystal clear water though," said the champion who learned to sail in Cowpet Bay, St. Thomas.