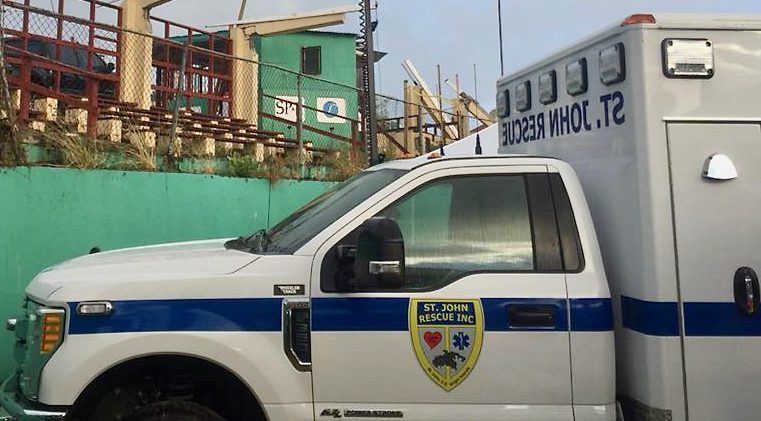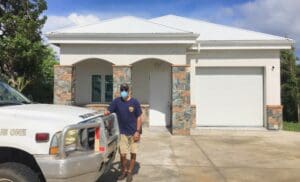 Greetings from the dedicated members of St. John Rescue. The past year has been quite eventful. The official count from 911 indicates that our volunteers responded to 22 emergencies.
The control center located in the V.I. Territorial Emergency Management Agency building next to the airport entrance keeps track of all emergency calls on a Computer Aided Dispatch, or CAD, system. Of course, if a member is in the vicinity of an incident and responds when they hear the plea, we usually don't receive a CAD number. Please keep in mind that whenever you witness a situation that requires either Emergency Medical Services, Fire, Police, or Rescue personnel, please call 911 to report the incident. Calling any emergency agency before calling 911 only delays response time.
The year 2022 started out with St. John Rescue receiving a donation that allowed us to purchase a new Quick Response vehicle. A 2022 Chevy Tahoe was delivered to us in August and is currently being used by our chief Steve DeBlasio. This is the first new vehicle we have purchased since 2006. Yes, our fleet is getting old. We hope to raise funds to be able to replace a vehicle each year. The types of vehicles we require cost about $80,000 to $100,000. We will be making a public request once we start a campaign to purchase a vehicle to replace our 2006 Ford Expedition.
We were fortunate to receive two federal grants in 2022. These grants were offered through the V.I. Housing Finance Authority. One grant of $140,000.00 is for purchasing a new oxygen generator and to purchase portable oxygen concentrators. These concentrators will provide St. John residents that are dependent on oxygen with more freedom to travel to the grocery store, or to St Thomas for medical issues, or simply to shop. St. John Rescue operates the only oxygen generator on the island of St. John. We fill oxygen tanks for Fire and EMS, the National Park Service, and any resident who is dependent on oxygen.
The second grant of $170,000 was also provided to us through VIHFA. This grant allowed us to hire Brett Huntley as a full-time training officer. Brett is a paramedic and a highly qualified instructor. Through Brett's efforts, St. John Rescue is now a certified American Red Cross training center. He will be working to get St. John Rescue certified with the National Association of Emergency Medical Technicians and AHA. Once established as an official NAEMT training center we can begin qualifying our current instructors to meet standards that will allow us to be self sustaining.
In addition, Brett organized a Water Safety Instructor and Lifeguard course. Seven students completed the course and will receive their Lifeguard certifications. The Friends of the V.I. National Park funded this course. They hope to continue working together to train more lifeguards so the Friends can begin providing lifeguards to National Park beaches in the future.
During 2022 St. John Rescue provided CPR and First Aid training to nearly 200 people.  Twelve V.I. Police officers who serve on St. John successfully completed a Basic Life Support taught by St. John Rescue instructors. We hope to provide automated external defibrillators to the officers once we obtain batteries and electrodes for the 17 AEDs we have at our office. It seems that a supply chain issue at Stryker Corp. is preventing us from obtaining the necessary supplies that will allow us to activate and distribute our AED's to the police department, churches, schools, and any other destination that would benefit from having an AED.
Brett is preparing an Emergency Medical Responder course that will start in April. This course consists of about 63 hours of training and testing. Once completed, the students will be ready to take the National Registry exam and become nationally certified EMR's. Brett has also set up an EMT refresher program through EMS 1 Academy. The National Registry is allowing 100 percent of recertification to be completed online. St. John Rescue will also provide hands-on training to supplement the online training.
Anyone interested in taking any of our classes or getting more information about our dynamic organization, please contact Brett at [email protected] or call our office at 340-693-7377.
Members of St. John Rescue also participated in several local events including the Beach to Beach Power Swim, Kayaking event, The Trail Race, 8 Tuff miles (unofficial), concerts, and health-related local events.
Jackie Parsons Browne, our liaison member of the Board of Directors, is working on organizing a junior rescue program that will introduce local teenagers to our organization and hopefully motivate them to become EMT's or even paramedics.
In the near future we are planning on organizing a "Senior Rescue" where retired members of the community can meet at our office and get familiar with our equipment and supplies or just sit and chat about old times. I will be teaming up with AARP and Human Services to see how many seniors would be interested in participating.
Currently, we have 22 active members: three paramedics, one Advanced EMT, four EMTs, three EMRs, one physician, and 10 Responders in Training. This past year seven residents of the Coral Bay area joined St. John Rescue. Most of the new members are seasoned boat captains and experienced scuba divers. We now have a boat stationed in Coral Bay and there will be a rescue truck out there soon. St. John Rescue operates two rescue boats (one in Cruz Bay and one in Coral Bay), one heavy rescue truck, two quick responsive vehicles, and one utility truck.
You may have noticed that there is an ambulance in Coral Bay. This vehicle is being staffed by Coral Bay firefighters and a paramedic from Pafford Medical Services. St. John Rescue was able to donate this ambulance to the Fire Service earlier this year. We were happy to help out so the people of Coral Bay can feel confident that there is an ambulance in their neighborhood.
We rely on private donations along with a conservative allotment from the territory. Please consider supporting St. John Rescue either financially or by volunteering some time. Our volunteers spend countless hours honing their rescue skills so they can always be ready when we are deployed.
Please stay safe and remember that at St. John Rescue, "WE ARE ON CALL FOR LIFE."
— Bob Malacarne is president of St. John Rescue.